Remove financial, technical burdens of outdated applications
Every year, almost 80 percent of federal IT budgets are consumed by operations and maintenance (O&M) of legacy applications. Agencies pour resources and time into each app update—no matter how small—developing, testing, and trying not to break it when altering the tightly wound code.
Now through our microservices app modernization solutions, we can get you out of legacy app O&M and into new technologies fit for dynamically changing needs. Our tools transform monolithic code structures—in which all the parts are interdependent—into modular pieces to make apps suited for fast development and deployment.
Legacy app architectures can be compared to a house of cards, where a change can cause a card to fall that pulls everything down. With a modern, loosely-coupled, open architecture, parts of the code can be replaced knowing it won't break something elsewhere.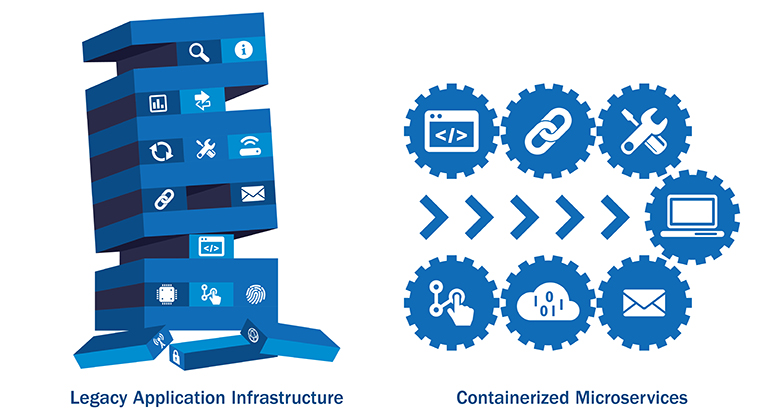 Lower risk and costs
The potential for damage from code modifications makes app modernization a challenging endeavor. Our tools lower that risk by first performing a deep scan of monolithic legacy code, then inspecting and untangling dependencies, and lastly identifying candidates for conversion to microservices while preserving app integrity.
Our app modernization helps to:
Dramatically lower O&M costs. For every app update, there is no longer a need to perform a full production event of development and testing the changes to make sure that they work with all the existing code. Also eliminated are heavily modified legacy apps whose code is understood by only the few and require specialized support.
Accelerate development cycles. With highly modular microservices code, app updates become piece-part. IT teams only need to work on and test the new component before deploying it.
Strengthen cybersecurity. Modern code in new applications has built-in cyber protections, unlike legacy code that is vulnerable to advanced and ever-evolving cyber threats.
Scale up agility. Microservices code can accept different plug-ins, raising flexibility in meeting new demands. The brick-like manner and reduced complexity of each update quickly builds momentum.
Deploy app modernization successfully
The Department of Agriculture, NASA, and U.S. Central Command have used our microservices architecture engineering for some of their apps. Additional customers include:
U.S. Air Force, whom we are assisting with app modernization and migration to its private cloud environment in AWS and Microsoft Azure.
U.S. Army, which implemented our modern application architecture for one of its software suites.
Department of Transportation, which modernized and migrated some of its apps to the AWS cloud with our expertise.
Our approach and toolset are repeatable for all Department of Defense and federal civilian agencies, as well as commercial organizations. We continue to build our microservices repository and collective app modernization knowledge from customer engagements.