Rapid deployment of new technologies using agile and DevSecOps
There is a digital transformation paradox happening in U.S. government. To lower the risk of technology deployments, federal agencies are embracing the fast-paced, fluid, dynamic nature of incremental solution development.
Rather than acquiring big, complex, costly IT solutions that take years to complete, government customers are tapping SAIC's Innovation Factory to deliver low-cost projects in weeks versus years. Our Innovation Factory teams operate like a software startup, using agile practices and DevSecOps toolchains to rapidly build, test, and deploy first iterations of solutions quickly and then organically enhance them in sprints with customers.
The teams work in a highly collaborative style and pivot quickly to add functionality with customers. We launched the Innovation Factory to give government agencies accelerated time-to-solution and agility focused on:
Application modernization for cloud enablement
Cloud-native application development
Big data analytics and Internet of Things
Augmented and virtual reality
Blockchain
Artificial intelligence
"Customers know their mission goals. How they achieve them and which technologies they use are where the Innovation Factory comes in," said Charles Onstott, chief technology officer. "It lets them try out and verify technologies and gives them flexibility to incrementally evolve and improve the solutions as mission needs change."
More government customers are adopting rapid, cost-effective, and collaborative acquisition processes for solution prototyping and building activities.
Quick, successive hits
Federal civilian agencies are going to the Innovation Factory with their legacy apps to rapid- prototype cloud-based microservices. In single-day, live demonstrations, they can see our Innovation Factory teams modernize the apps and get functional proofs of concepts up and running.
Through one of these coding challenges, an agency can understand how cloud capabilities can improve its mission in a penalty-free environment and without having to make a significant investment.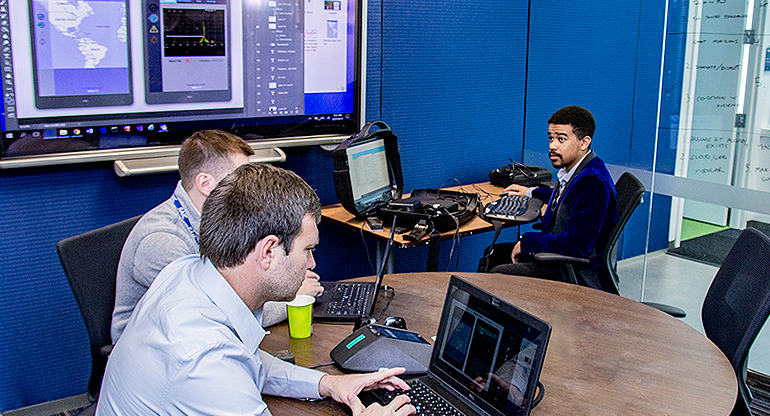 Department of Defense agencies are also Innovation Factory users for development of analytics and visualization solutions on the order of several weeks. One is investigating mobile, edge computing solutions for warfighters to ease their cognitive loads while on the battlefield and improve the speed and quality of their decision-making.
"We rapid prototype a proof of concept for a very specific functionality within a few days, and the customer will provide feedback. It is not these big, monolithic apps," said Andy Henson, who leads advanced analytics and simulation solutions development.
He continued, "We have Skype meetings and use agile communication tools, and they will sit with us at times. Our approach is build and iterate, fast to acquisition, and continuous to the field."
Repeatable practices and toolset
The Innovation Factory's expert practitioners of agile development, DevSecOps, and continuous integration/continuous delivery (CI/CD) pipelines plus their software engineering toolsets are keys to our rapid application development practices.
A team typically has six to eight members. Front-end user-interface (UI) developers, full-stack developers, cybersecurity experts, and cloud engineers form the core scrum team, who go from project to project. Project-specific subject matter experts, such as data scientists, round out a team.
We have made significant investments to integrate Red Hat's OpenShift app development platform with leading open-source DevSecOps automation tools in creating a robust CI/CD pipeline for rapid app development and deployment.
This has resulted in an optimized, prescribed toolset not only for Innovation Factory teams but for all SAIC teams supporting customer IT efforts. Whereas in the past it would have taken months for a new project team to stand up a software development environment, now it can jump into the Innovation Factory and start building apps the next day.
SAIC is leveraging this DevSecOps stack as the foundation to accelerate app modernization efforts. We plan to continue to train personnel on this toolset and agile/DevSecOps practices to ensure availability of development teams for government projects.
"This is the future of software development" said John Coble, solutions director of software acceleration at SAIC. "More and more customers will take advantage of this."