Scaling Agile Development to the Enterprise Level
Success requires real cultural changes and a collaborative mindset

09-15-2020

Susan Myers

IT MODERNIZATION
Everyone has heard the phrase "state of mind." It influences behaviors, methods, and actions to get things done.
State of mind blankets digital transformation. Citizens, warfighters, and public-sector employees have expectations of instant accessibility to IT and services. Government agencies' mindsets are thus evolving too, as they realize that mission success depends on quickly and continuously delivering applications, products, and services to users.
Department of Defense, national security, and civilian agencies alike have embarked on IT modernization initiatives and are adopting lean, agile, and DevSecOps to meet delivery challenges. The growing number of interconnected systems and need for enterprise-level agility make it an opportune time to also adopt lean-agile scaling techniques.
Many agencies have successfully implemented agile on individual projects, establishing short, frequent software development life cycles with continuous integration and delivery pipelines using DevSecOps practices and automation. Those responsible for large-system integrations must synchronize business lines and multiple agile teams. This requires coordinated systems engineering and integration with a scaled agile development approach.
Scaling agile across a growing number of interconnected teams and deliverables becomes increasingly difficult for obvious reasons. An agency has to align multiple product releases and maintain a stable state so that the teams become a holistic operation.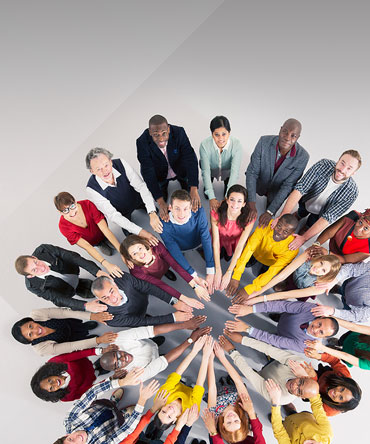 Organizations must get interconnected teams to operate holistically.
Achieving that requires real cultural changes by all agency stakeholders to a collaborative and enterprise mindset. They must apply systems thinking and operate as cross-functional teams with integrated agile practices that emphasize efficiency, predictability, and reliability of deliverables. Agencies won't find success by throwing more technology and automation at problems.
Anticipating the need for enterprise-level agile for government solutions, SAIC investigated various methodologies and is now applying the Scaled Agile Framework® (SAFe) to support agencies in their cultural and technological transformations.
SAIC's Agile center of excellence uses SAFe as a template for establishing an environment of shared responsibility, openness, and transparency and setting up processes, program increment planning, and meetings that facilitate team collaboration and synchronization.
Our center of excellence, which became certified as a Scaled Agile Gold Transformational Partner in 2017, holds workshops for government organizations looking to move from ideation to delivery faster at scale and produce better and sustainable product quality, business value, and mission results.
Getting to enterprise-level agile takes a foundation of cross-functional teams and processes and the right state of mind.
FURTHER READING: Lean Portfolio Management aligns strategy and technology execution