Never a dull day
Sarah Hammar supervises dolphin projects as part of the U.S. Navy's Marine Mammal Training Program in San Diego. Her day-to-day is constantly changing - this is no office job.
"We have a very dynamic working environment," Hammar says. "We are working on moving docks and pens. We work on boats. … We are constantly moving—walking, driving, riding.  It makes for a great work day, especially if the weather is nice."
Hammar's primary roles as a supervisor is to plan for the day ahead, which includes ensuring: 
The animal habitats are kept clean
Food and vitamins are properly prepared for the animals to maintain proper nutrition
Daily health assessments are performed to look for any cuts, bruises, or scratches on the animals
Employees have readied the boats and worksite for training sessions
Bridge the gap
Communicating with the marine mammals can prove one of the most challenging tasks for any trainer, who must find efficient ways to convey and reinforce behaviors they want.
"Dolphins specifically bring their own set of things to the table," says Hammar. "I would relate dolphins very much to cats when you think of motivation and tactics that you can use."
Although it may seem like an ordinary dog whistle, the trainers' "bridge" is much more. It helps to promote positive reinforcement for the animals through audio cues.
"It specifically bridges the time between us telling the animal the behavior they did was correct and them receiving the reinforcement," says Hammar. "Obviously the reinforcement they all love is fish, which is very effective as a training tool."
Sarah Radloff also works as a supervisor on the Navy's Marine Mammal Training Program in San Diego, but she specializes in sea lions. 
"Some of the challenges working with animals as opposed to people is obviously that they can't speak" says Radloff. "They're telling us through their behaviors what they feel or what they need."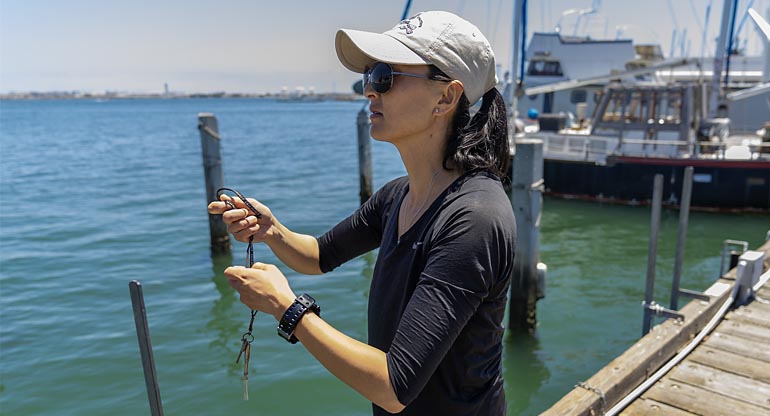 Work for it
Our trainers come to work every day knowing that they have one of the coolest jobs on the planet.
"The first time I interacted with a marine mammal by myself was the best thing in the world," says Radloff. "I still have these first-time experiences where I think, 'I can't believe this is my job.'"
Years of schooling and internships helped these women achieve their dream of working with marine mammals. Their advice to others who want to work with marine mammals: Take advantage of any opportunities that present themselves.
"For someone who is interested in marine mammal training, I would tell them to go to school and get your degree," says Radloff. "Look for opportunities out there to be involved with the community that has to do with marine mammals—or any type of animals—volunteering, internship, jobs, pet sitting, anything [you] can do to build [your] resume. It's very competitive and it's hard, but you've got to be persistent and you have to have passion."