11-06-2018
WWI Veterans' Stories Commemorate Centennial
In honor of the centennial commemoration of the end of World War I, we asked our employees to share their stories of family or friends who were WWI veterans. With a workforce that is 25 percent veterans and our mission to support the U.S. military, it is no surprise to find a long line of military heritage.
These are some of their stories.
---
William Stephen Landrum
Great-grandfather of Gene Blough, technical support in Oak Ridge, Tennessee
"My great-grandfather, William Stephen Landrum, served in WWI. He served in Europe for the better part of the war. Though he wouldn't discuss the things that he experienced, I do know he was an extremely honorable man.
Through the veterans' award that President Roosevelt provided WWI veterans during the Depression, he was able to purchase a farm in central Mississippi, which is in the family to this day. He left behind an incredible legacy of wisdom and honor."
---
Jess Casteel
Uncle of Franklin Boyer, program analyst principal in Orlando, Florida
"My uncle, Jess Casteel, was a WWI soldier in the Army. He served in Europe for four years and was gassed in the Argonne Forest campaign. He lost one of his lungs, but otherwise survived that battle against the German army. He returned home to Columbus, Ohio, to lead a very long and productive life."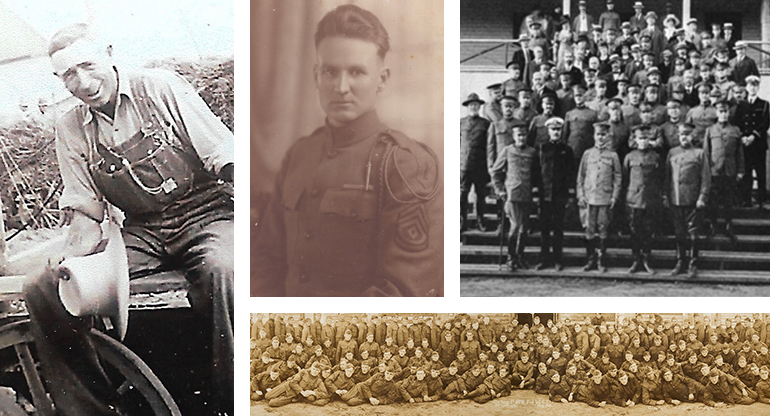 Charles Kirkland Bidwell, Jr.
Grandfather of Pete Huber, senior quality assurance analyst in Fairfield, New Jersey
"My grandfather, Private Charles Kirkland Bidwell, Jr., was born in Queens, New York, on June 20, 1895. At the age of 19, he joined the 10th Company, 9th Coast Artillery Corps.
In April 1929, Essex Airport Corporation was formed by Walter Marvin and six other individuals. The intention of the company was to open an airport to serve Montclair, New Jersey, a town seven miles (11 km) away. The tract of land that Essex Airport Corporation intended for the airport was the Fairfield Dairy Company land that had also been used during WWI as a temporary airfield for the Naval Rifle Range, which had been located along the Passaic River in Pine Brook.
The location of where the Navy Rifle Range was located is the spot that is now 155 Passaic Avenue, the location of the SAIC Fairfield, New Jersey, office. This is coincidently the office where I now work, located on the same grounds where my grandfather used to visit on New York Day.
The house that I am living in now is from a Sears & Roebuck Catalog, built the year prior to the beginning of WWI. Each year on November 11, we have made it a tradition to lower the flag to half-staff in memory of our lost forefathers."
---
Roy Fussell
Neighbor of Julie Gateley, senior software engineer in Cookeville, Tennessee
"Roy Fussell was our next-door neighbor and indulgent grandfather-figure. He served in the Army for two years and at least a portion of it was in France (it took about a month to get there by ship). The military buzz cut he was given during his service was the style he kept the rest of his life."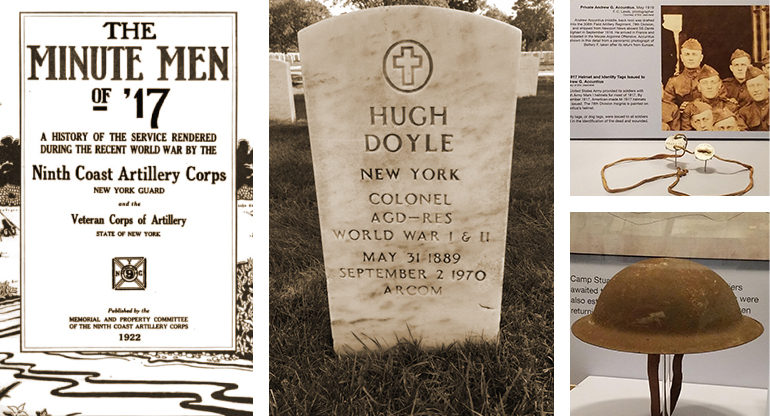 Charles Menge
Grandfather of Stephen Parelli, finance Director in Fairfield, New Jersey
"I am very proud of my grandfather, Charles Menge, and want his service to be remembered 100 years later.
He was among the first 10,000 U.S. troops to land in France in July 1917 and was immediately sent to the Western Front. He was a member of the 11th Engineers and "the first to fight" in the battle of Cambria on Nov. 30, 1917, where his regiment helped stem the German breakthrough.
In addition, my grandfather's regiment was commended by the First British Army and First American Army for their services in the Saint-Mihiel and Meuse-Argonne Offensives.
And he received a handwritten thank you note from King George V, which my family still has!"
---
Christopher Carson Combs
Grandfather of Len Ritter, Jr., senior business development manager in Jacksonville, North Carolina
"My paternal grandfather, Christopher Carson Combs (middle name is after the famous American explorer Kit Carson) was born and raised in the mountains of southeastern Kentucky and served in Army offensive forces during WWI.
He served three enlistments in the Army, and while silent about his service, I always admired this 6-foot plus man that seemed to know everything from raising bees to rebuilding lawnmower engines. I found great joy in listening to him as he talked about his childhood and older adult life.
As with many of the soldiers who came home from the war, he related that work was scarce, and the Great Depression was devastating our country. Upon the end of his final enlistment with the Army, C.C. Combs, as he was usually called, engaged in Roosevelt's Civilian Conservation Corps, where he served as a heavy equipment operator building roads through some of the most challenging areas of Kentucky.
Grandpa Combs had six children, of which my mother was one. Upon his death in 1980, I was given a box containing some of his military memorabilia, but most importantly, I inherited the flag that covered his casket. I'm grateful for the patriot my grandfather was and for that country which he defended."