Synthetic internet provides realistic and low-risk training environment
Bad actors have made the internet their battlefield—disrupting commerce, stealing identities, dividing the voting population, and planning their next terror attack. Your teams of good guys need a tool that trains and prepares them to fight better. 
Enter the cyber and intelligence trainer, what we call our Synthetic Cyber Sandbox: a low-overhead synthetic internet where your trainees can collect artificially created intelligence and stop threats—just like those they would experience in real operations.
Learning the skills needed to fight these challenges requires hands-on practice, not more time in a classroom. But practicing these tradecrafts on the actual internet is risky and requires a costly investment.
"Mistakes in this environment have no real-world impacts," said Jason Rogers, SAIC program analyst.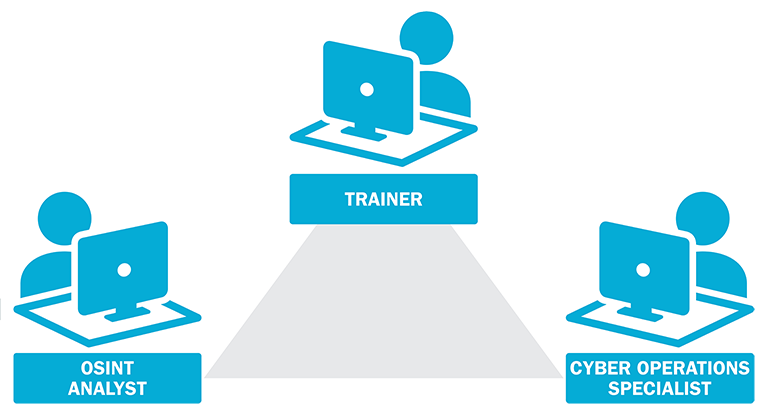 Just like the real thing
Replicate the internet in a synthetic environment without a significant investment in computing resources. To the trainee, it's indistinguishable from the real thing. 
 
Deploy it on your local network, in the cloud for training students in multiple locations simultaneously, or via a microserver if you need to practice in a classified space.
 
Customize scenarios for open source intelligence (OSINT) analysts who need to stop the next physical attack and for cyber operators who need to hunt down insider and outsider threats to network security quickly. Instructors also can incorporate both aspects into a single training event.
 
Incorporate realistic bad actors with biographical data, online personae, and electronic footprints. When an OSINT analyst logs into the system, he or she can access simulated social media and news sites as well as blogs.
Responsive to learners' needs
"For OSINT analysts, a key component of our solution is white noise in volumes that increase or decrease depending on the learner's needs," Rogers said. "Trainers populate the synthetic scenario with realistic actors, situations, communications, and other traffic: the so-called haystack around the needle."
If needed, an OSINT analyst can contact a cyber operator who is training on another device. That operator has the tools to take control of the environment, stop a threat, and file a cyber incident report.
Data collected from each training scenario helps identify trainees' strengths and weakness, such as how long it took an analyst to find and report a threat.
With our cyber and intel trainer, we can train the volume of analysts you need to keep up with very real threats to our nation's security.