Delivery of new and retread tires keeps military vehicles and aircraft in operation
The 400 different types of tires used by the U.S. military are so important to its ground and aircraft fleet that the Pentagon designates them "a highly critical item." 
The Defense Logistics Agency has called on SAIC for on-time tire delivery to U.S. military bases around the world, including in Afghanistan, Iraq, and more than 60 foreign military allies.
We make this happen with world-class delivery times and by fulfilling high-priority requisitions in three days throughout the globe.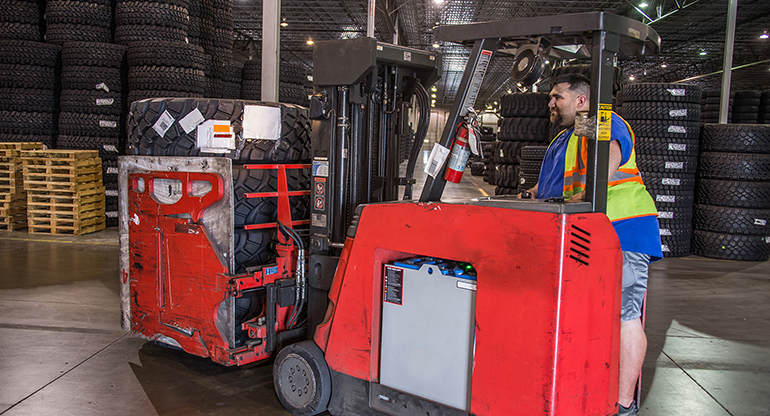 Fulfill requests quickly
We have helped the DLA: 
Improve military readiness through our forecasting, inventory management, and global distribution capabilities.
Reduce its need to own inventory with our distribution centers both within and outside the continental United States that procure, store, and deliver land and aircraft tires. 
The dedication to the mission and passion for getting things done quickly and accurately is our hallmark on the Performance Based Logistics (PBL) contract. We are meeting the 95 percent PBL metric required by our program by achieving consistently high, On-Time Delivery (OTD) rates to our military end users.
Proven results
Through August 2018, SAIC has delivered over 1.5 million tires against the TSI contract. The one millionth tire was delivered to the National Training Center at Fort Irwin in the Mojave Desert in California in 2016. 
We have received the Gold-level Superior Supplier Award for outstanding quality and delivery performance in fiscal years 2016 and 2017 as a DLA Supply-Chain Alliance member. This award designates SAIC as one of DLA's top 15 suppliers serving the warfighter as a force multiplier.   
Banner image courtesy of DVIDs. The appearance of U.S. Department of Defense (DoD) visual information does not imply nor constitute DoD endorsement.