Small team has big impact in quests for share of DoD budget
Over the past two decades, a small team of SAIC trainers has educated more than 20,000 military and civilian personnel on a Department of Defense funding process that can make or break a program.
Planning, Programming, Budgeting, and Execution (PPBE) is the process by which the DOD funds all of its activities. Our team is making sure U.S. Air Force and DOD personnel have the knowledge and skills they need to plan, secure, track, and spend resources.
In 2017 alone, our teams taught PPBE process to 19 different clients and to 1,700 personnel.
During their careers, most pilots and other officers will have at least one tour in a desk job. This "staff tour" may be managing an acquisition program. This requires accounting and finance skills — areas where they may have little to no experience. They must quickly learn the PPBE process to be successful, which entails:
Strategic planning
Program operations
Basic accounting
Analytical skills
Budgeting and execution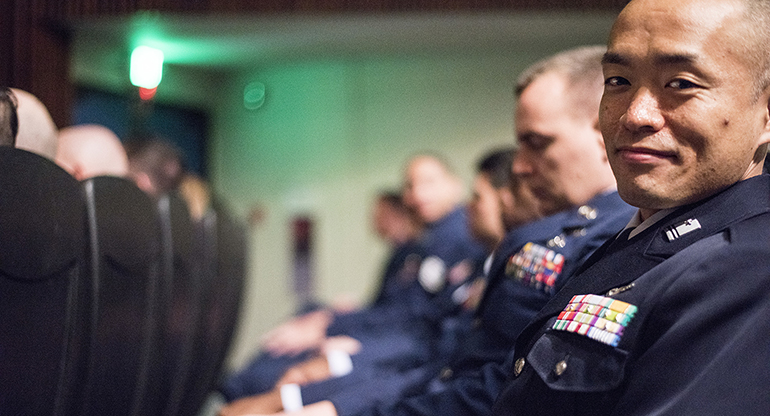 Effectively managing this process ensures that programs — including aircraft, weapon systems, and munitions, and business tools — receive adequate funding during budget cycles, ensuring the military services have the mix of forces and equipment to accomplish their missions. It also provides a mechanism to make sure the services are good stewards of taxpayer money and that they are achieving what they promise with the money they receive.
Been there, done that
Our trainers have been in those acquisition personnel's shoes.
Dave Williamson, who leads the team, is a retired fighter pilot who completed a staff tour at the Pentagon, where he first learned the PPBE process. He honed the skills and over time became an expert in the process.
When he retired from the Air Force in 2002, he joined SAIC to become a PPBE trainer. His colleague, Laura Gray, brings perspective from her years as a civilian in the Department of the Navy.
That kind of understanding of the customers' acquisition mission, coupled with our training expertise, has contributed to our long success educating the acquisition workforce.
Content tailored for audience
Depending on the customers' requirements, our teams can take the PPBE courses on the road to commands around the world or conduct them in SAIC offices.
Courses include a two-day primer for action officers, who generally are early- to mid-career officers but may include enlisted and civilian personnel. Executive courses target more senior officers and civilians, including general officers and members of the senior executive service.
With an intense competition for budget dollars, understanding the PPBE process is an enabler of program success. 
Learn more about our training capabilities.