Surfing gives injured vets a restorative experience
There's an overlooked challenge our service members face when coming home from their mission: returning to everyday, civilian life. Shining light on the visible and invisible injuries, the Wave Warriors Surf Camp aims to provide wounded warriors a chance to feel whole again.
Each year, warriors meet at Virginia Beach and "are treated as celebrities," explained Tysha Edwards, director of development for Wave Warriors Surf Camp. Surf instructors and volunteers help the warriors get into the surf and up on surfboards so they can enjoy a day at the beach with their families and new friends.
For nearly a decade, our sponsorship and the time volunteered by SAIC employees have empowered the program to grow exponentially. Since its inauguration in 2008, the camp has grown from only 12 wounded warrior participants to over 60 from across the Virginia Beach region.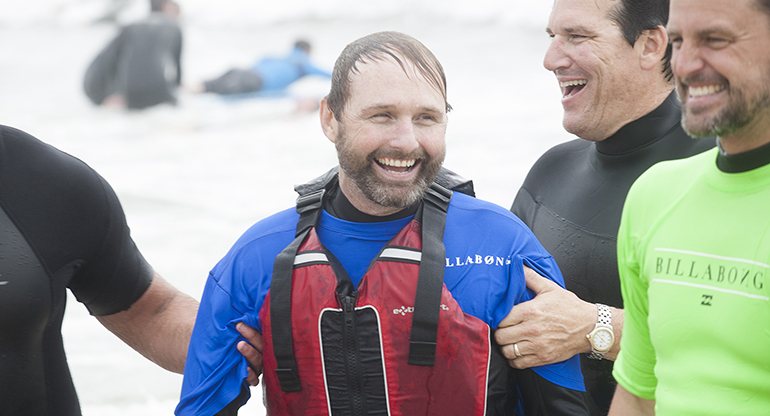 A Wave Warrior–in his own words
While stationed in Afghanistan, SFC Jon Meadows was propelled to the roof of his vehicle when an IED exploded near a trailing vehicle during a Special Forces mission. The injury caused compound traumatic brain injury, autonomic nervous system dysfunction, and post-traumatic stress disorder.
Although each person has a different reason for attending the camp, the volunteers have one common goal: make the warriors feel as comfortable and as whole as they can.
"He was so embarrassed to have five people helping him since his injury can't be seen visually, but they made him feel so comfortable that by the end of the day, he was up and surfing, smiling from ear to ear," described Jon's wife, Melissa. 
With patience and persistence, Jon was up and riding the waves on his own with inspiration that rippled through the camp.
"After the camp, I just felt like I could do so much more. This experience gave me so much happiness and confidence," Jon said. "Because of my injury I don't remember much, but I remember this. Before I was injured, I used to be able to swim and dive in the water. Because of my injury I am scared of the water now. After I surfed, I didn't want to get out of the water. It really uplifted me."
Melissa remembers how kind and patient each of the volunteers was and how hard they worked to make this experience so much fun for him. "He felt as whole as he could for an entire afternoon. This experience impacted him so much, he wants to go back every year."
Delta Hinson, an SAIC program manager, is one of many employees who volunteer year after year.
"It's one of my favorite days because you know everyone there is so happy," said Hinson. "I had the privilege to talk to a wounded warrior who told me for the past 9 years since her injury, she felt unhappy and forgotten. But this camp, this gift, made her laugh and feel true happiness for the first time in a while."
It goes without saying that our warriors deserve nothing but happiness. By teaming up with Wave Warriors Surf Camp, we hope this day is a restorative experience and one that reminds participants how thankful we are for their sacrifices.
To sponsor or learn how to get involved with this life-changing camp, visit Wave Warriors Surf Camp.