06-17-2019
SAIC is proud to celebrate LGBT Pride Month. All this month, SAIC employees, families, friends, and volunteers have been participating in LGBT Pride Month events in their communities, supported by company-sponsored activities. The celebrations are part of SAIC's efforts to not only create a workplace culture of diversity, equity, and inclusion but also make a meaningful impact on our employees' lives outside work.
LGBT Pride Month commemorates the Stonewall uprising in New York City in 1969, which was the tipping point for the gay liberation movement. As we mark its milestone 50th anniversary, our top priority is continuing to improve our award-winning culture of equality and diversity.
A workplace where all employees feel comfortable and valued fosters collaboration and empowerment, which results in creativity and innovation. This year, SAIC has already earned two notable distinctions:
The 2019 Corporate Equality Index, the nation's premier benchmarking tool on corporate policies and practices supporting lesbian, gay, bisexual, transgender, and queer employees published by the Human Rights Campaign Foundation, awarded us a perfect 100 score and put us on its "Best Places to Work for LGBTQ Equality" list.
Forbes named us a "Best Employer for Diversity" for 2019, recognizing specifically our MOSAIC diversity, equity, and inclusion program. It is our second consecutive year on Forbes' list.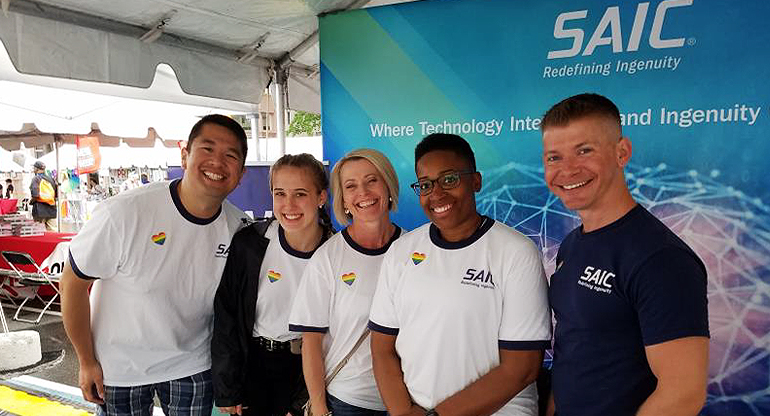 SAIC Equality Alliance serves LGBT employees 
The SAIC Equality Alliance is one of seven employee resource groups within MOSAIC, open to all SAIC employees and championing topics and issues that are important to our LGBT team members. The Equality Alliance strives to promote a culture of acceptance and understanding while engaging external LGBT communities where SAIC operates.
"When people worry that they will not be accepted for who they are, it prevents them from being the best they can be," said Jeff Raver, VP of training and Equality Alliance co-lead. "I am proud to work for a company that not only understands the importance of diversity but stands behind that commitment every day."
A month of Pride celebrations
Earlier this month, an SAIC contingent of more than 100 employees, family members, and friends attended the Washington Nationals' Night OUT, enjoying the baseball game, engaging in Nationals Pride Night festivities, and making lifelong memories. That was followed by an employee group in Cookeville, Tennessee, who participated in the Upper Cumberland Pride Festival, where SAIC was an event sponsor.
Back in Washington, DC, our employees took in the excitement and activities at the Capital Pride festival and parade, where they handed out giveaways and answered questions about the company at the SAIC booth. And, Knox PrideFest capped off our month-long events, as an employee and volunteer group showed their LGBT support at the Knoxville, Tennessee, festival and parade.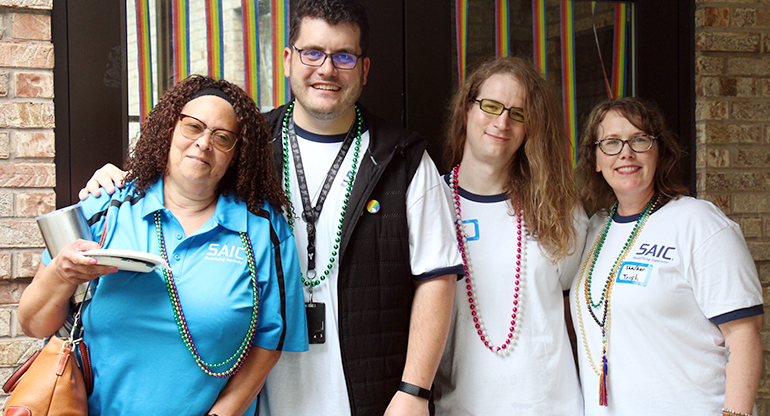 A full-time commitment
But our commitment doesn't end there. The Equality Alliance will be involved in the San Diego Pride Festival in July as well as in one of Rocket City Pride's fall events in Huntsville, Alabama. Earlier this spring, nearly 100 employees and their families were in force at the San Diego Padres' Out at the Park event, while our team in Oak Ridge, Tennessee, supported the local Youth Pride Fest for the third straight year.
Tom Wofford, senior vice president and the Equality Alliance's executive sponsor, is proud of the huge strides being made every day within our workforce and in our communities.
"When employees can bring their authentic selves to work each day, it creates a happy, high-performing workplace," he said. "It's my privilege to help enhance SAIC's culture that is welcoming to all employees and values their unique perspectives and experiences."
View the videos below for more perspectives from our employees: 
SAIC employees describe what Pride Month means to them.
Our team members comment on SAIC's values of diversity, equity, and inclusion and our Equality Alliance resource group.
Our employees are proud to tell others about SAIC!