11-05-2019
In observance of Native American Heritage Month, SAIC interviewed colleague Sheila Holsclaw, a member of the Cherokee Nation who is part of our team at Fort Knox, Kentucky, supporting the U.S. Army Credentialing and Continuing Education Services for Soldiers (ACCESS) program and the GoArmyEd online portal.
Holsclaw discussed her Cherokee heritage and following the footsteps of her father, Jerry Vair, who was an Army staff sergeant, and mother, Virginia Richardson Vair, in supporting our soldiers.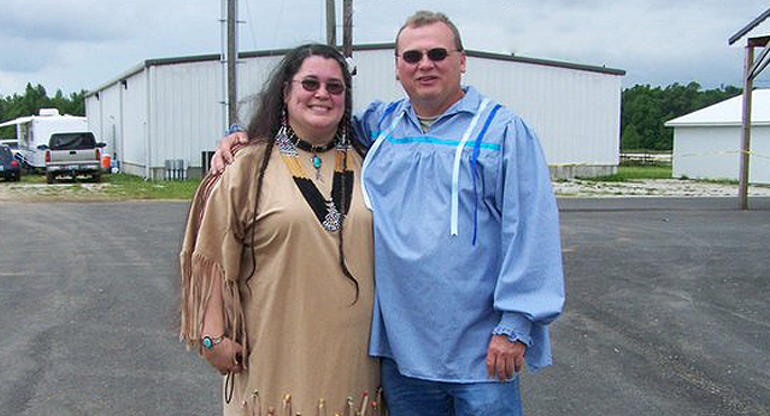 From Army brat to helping soldiers
"I was an Army brat," recalled Sheila Holsclaw. "I went through 23 states before the age of 10, growing up with my three brothers wherever we were. My dad was always hard-working and loved to laugh. My mother always went above and beyond to welcome and help those who were in my dad's troop.
"I remember one of them went through a bitter divorce, and he was left with basically the uniform on his back," she continued. "Even when we didn't have much, my parents stepped up to furnish an apartment for him. When my mom passed in 2012 from breast cancer, retired soldiers, civil servants, and their families came out to pay their respects. The turnout was unbelievable."
Jerry Vair was a casualty assistance officer who fought in Vietnam and served multiple tours. It was when he was stationed in Honolulu that Holsclaw was born at Tripler Army Medical Center. While her father was Filipino and native Hawaiian, her mother, Virginia, was of mixed Cherokee and European ancestry.
"My mother's family name traces back to the Dawes Rolls," Holsclaw noted, referring to the lists of more than 100,000 individuals who registered between 1898 and 1914 as members of five civilized tribal nations (Cherokee, Creek, Choctaw, Chickasaw, and Seminole).
But, because of the persecution and forced cultural assimilation that Native Americans--especially children--endured, Holsclaw's mother didn't reveal to her and her siblings their Cherokee lineage until they were older.
"She started telling us a little bit more here and there," Holsclaw said. "Later on, with help from my great grandmother and cousin, I started doing research into my ancestry."
The Vair family settled in the Fort Knox, Kentucky, area, with Jerry going to work in the Army's Casualty and Mortuary Affairs Operations Division. "After my dad retired from the Army, after 20 years of service, the Adjutant General, who was a friend, asked him to return as a civilian, which he did for another 20 years, doing the same job," Holsclaw pointed out.
"He took care of soldiers in Kentucky and seven surrounding states and their families. He coordinated funerals, dress uniforms, Taps, honor guards, and anything else required to show appreciation to them," she explained. "I learned a lot from my parents, but my dad's pride in his work was deeply imprinted in me."
Following high school and college, Holsclaw worked at several companies before becoming an administrative assistant at HealthSouth Lakeview Rehabilitation Hospital (now Encompass Health Rehabilitation Hospital of Lakeview). She and her husband, Greg Holsclaw, met in 1992, and they raised her sons from a previous marriage, Joey and Anthony, along with daughter Raechel. All the while, she dug deeper into her Cherokee roots.
She eventually participated at local powwows—social gatherings filled with celebrations of song and dance—and learned to play the Native American flute as well as become conversational in Cherokee. "It's a very difficult language, but I can speak it enough to get myself in trouble," she laughed.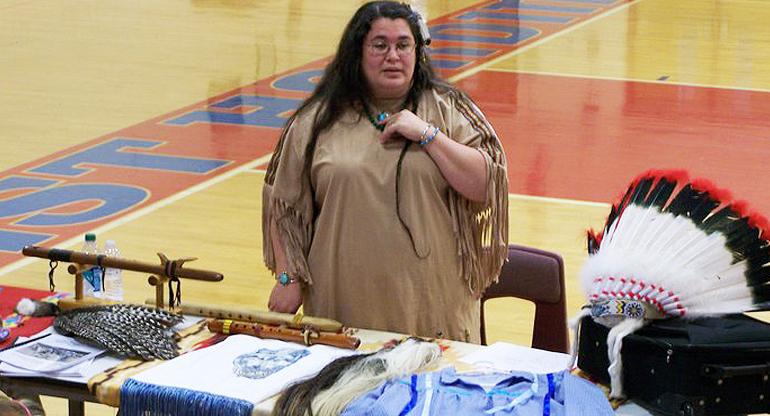 It was at the rehabilitation hospital where she honed her love of helping and nurturing others. "I did a little bit of everything. I was administrative assistant but also accounts payable and receivable, payroll, and rehab tech, transporting patients back and forth from their beds and therapy, and even volunteered to cook for them," she noted. "I've always been referred to as 'Mama.' It's part of my Cherokee name, Waya-Etsi, which translates to "Mama Wolf.' "
During her spare time, Holsclaw taught Native American history at local schools as a volunteer. And, she took care of the administrative work for a Hardin County powwow organizer before having to stop to undergo radiation therapy for stage III thyroid cancer, which she beat.
FURTHER READING: Explore SAIC's culture in the things we do
Today, she is a communication analyst for SAIC, administering military and civilian education codes in the Army Training Requirements and Resources Systems, or ATRRS, the branch's enterprise training management system.
She researches resident and distance-learning education courses that satisfy Army personnel's educational requirements and, when approved, adds them with their new codes to ATRRS. She assigns codes to courses in ATRRS and assists soldiers, unit S1s, Army HR administrators, and military education counselors with new code requests and credentialing needs.
Army personnel rely on the education codes to update their SRBs (Soldier Record Briefs) or ORBs (Officer Record Briefs) showing their education status, including completed courses, attended institutions, completed degrees, and majors.
Her work is an essential component of SAIC's program management services and technical support that enable the Army to operate and maintain the GoArmyEd professional development system for users.
Soldiers, cadets, and Army civilians use the system to request tuition assistance, access academic degree programs, select classes, gain access to military or academic testing, and select on-duty programs. Educational institutions furnish information on courses and degree programs, process credit-bearing enrollments, and submit course grades and degree completions in the system.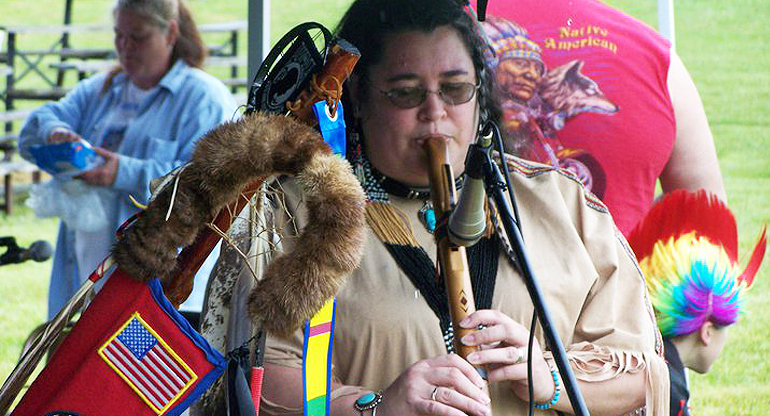 "I'll be going on seven years with SAIC in December, and I've loved every minute," Holsclaw said. "I really enjoy helping soldiers accomplish their education goals. I've always loved helping people."
She credits her teammate Julie Weed, a software engineer, and Martin Harbolt, deputy program manager, for growing professionally: "They've taught me to not be afraid to speak up and give my input on issues and to get issues resolved. My voice is heard, and we're completely supportive of each other. People thank me, and that's the biggest thing here."
Holsclaw's knowledge and compassion have earned her commendations from Army customers. "I've had people call me, distraught and searching for answers. I said, 'Hold on, let me see what I can find out,' and was able to help them," she recalled. "When I received those thank-you letters, I felt appreciated. I did my job and am thankful to have helped."
Although she is not teaching Native American history currently, she still provides help to a Native American heritage event that is held at the Saber & Quill venue at Fort Knox. But, she said, "I did have a few former students who ran into me and called out, 'Hey, Mama Wolf!' "