International Criminal Investigative Training Assistance Program strengthens overseas law enforcement agencies
Protecting human rights abroad, combating corruption, and reducing transnational crime and terrorism is critical to U.S. national security and an important foreign policy objective. SAIC has supported such efforts in more than 28 countries, providing training and other support to local and regional law enforcement agencies.
The International Criminal Investigative Training Assistance Program (ICITAP) is an initiative within the U.S. Department of Justice, in partnership with the Department of State, U.S. Agency for International Development, the Department of Defense, and foreign host countries.
Training initiatives have focused on:
Counterterrorism
Countering violent extremism (CVE)
Border security
Regional cooperation
Forensic analysis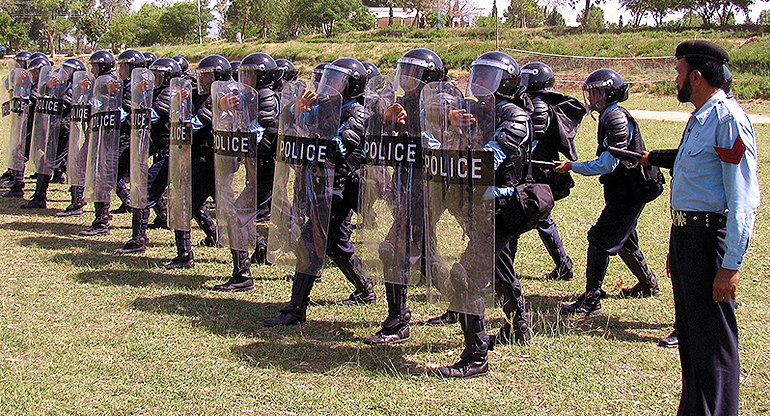 Our teams get results
On-the-ground support in host countries, including mentorship by SAIC's embedded long-term advisors, has resulted in significant operational outcomes.
Successes include:
Key arrests in the Balkans. ICITAP placed increased focus on regional counterterrorism efforts through targeted training initiatives, with emphasis on regional cooperation and law enforcement network building. In Albania, border police arrested an internationally wanted terrorist; in Bosnia, officials arrested six men suspected of financially supporting and recruiting for ISIS and five others suspected of building an explosive device intended for an attack in an unspecified Scandinavian country.
Growth of Ukraine's first Police Patrol service. ICITAP has graduated more than 3,000 police officers in three cities, and public trust in the new patrols has skyrocketed to 80 percent in some areas, with only 16 percent of survey respondents claiming trust in the still-operational Soviet-origin militia.
Mexico's first internationally certified crime lab. This hallmark achievement, in the State of Queretaro, was achieved through ICITAP's successful mentorship and expert-led instruction. This will serve as a principle example for regional and international laboratories to follow, and assist the professionalization of Mexico's new accusatory system, while advancing the goal of greater cooperation between Mexican and U.S. security apparatuses.
Advancing Kosovo's strategy countering violent extremism. ICITAP has advised numerous Kosovo agencies and assisted with the internal coordination and effective management of the government's CVE strategy. Recent statistics show a dramatic decrease in the number of Kosovars leaving to fight for ISIS.