Supply Chain
Proven and reliable approach to ensure
a continuous supply of parts and materials to warfighters
Software applications and data analytics deliver supplies when you need them to keep your missions on track.
Receiving components and parts on time is critical to mission success for the U.S. armed forces. Using our in-house solution called the Integrated Logistics Toolkit, we connect customers to hundreds of different products using open-source software applications and data analytics. From lubricants to solvents, we can help you with end-to-end procurement, transportation, delivery, and sustainment needs.
By integrating our toolkit into systems operated by our customers and third-party vendors, we drive automation, speed, and efficiency. Data flows in and triggers orders and fulfillment, making emails and phone calls obsolete.
Click on our blogs and stories below for more supply chain insights.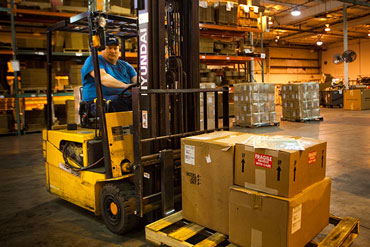 Capabilities
Fielding

Delivery of parts, materials, and resources to U.S. armed forces for mission readiness.

Sustainment

Maintain, repair, and support products in the field. Manage inventory and movement of equipment and supplies.

Training

Course development and training guides for military vehicles and equipment.

Ground Vehicles

Maintain a global supply chain for mass vehicle integration. Buy vehicle hulls, weapons, and tires from international and domestic suppliers.

Retail

Spot buying materials from hundreds of shops globally.

Wholesale

Eight distribution centers across the country maintain more than 1.3 million U.S. government parts, including chemicals and petroleum, oils, and lubricants.

After Market

Purchase spare parts from original equipment manufacturers.