Analytics
Decisions of national and global importance require
sound analytic methods and trustworthy data.
OUR APPROACH
Human ingenuity and machine power combine to produce actionable insights, often in the blink of an eye.
Our team provides a holistic approach to advanced analytics, decision-making, and strategic planning, with expertise from military, civil, and intelligence service and multiple disciplines of engineering, operational research, and data science. Whether you are concerned about national security, a clean water supply, or fleet readiness, our experts, processes, and tools--including high-performance computing--provide valuable advanced analytics and analytic simulation capabilities that increase the likelihood of mission success.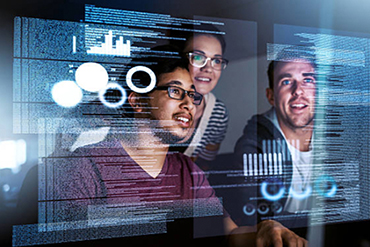 The right tools can make all the difference.
Modeling and Simulation

Our modeling and simulation data scientists and engineers drive the convergence of multivariate modeling, statistics, math, and physics into computer models that support simulations used for decision-making across missions that span from space to healthcare to enterprise IT.

Experimentation

We use Agile and DevOps methodologies to bring rapid prototyping capabilities to internal and customer research and development efforts. Our teams test ideas, concepts, emerging technologies, and designs in realistic conditions to enhance decision-making and contribute to heightened levels of readiness.

Advanced Analytics

We integrate proprietary and open source processes, methodologies, and tools (including machine learning algorithms) into an accessible platform that allows customers to collect, curate, analyze, and act on disparate data sets efficiently, improving decision-making quality and enhancing user experiences.

Synthetic Environments

Our computer simulations of real-world environments provide a high level of realism to your training and research. Environments include a synthetic internet that supports cyber analysis and virtual environments that use geospatial and sensor-derived data.

Analytic Wargaming

We bring a multidisciplinary approach to connecting design, forecasting, soft sciences, and advanced modeling techniques to deliver advanced wargaming to customers who are interested in understanding how macro trends such as sociopolitical changes affect outcomes.

Artificial Intelligence

We understand and use artificial intelligence to solve complex and repeatable problems with more efficiency and fidelity. Examples include our efforts in natural language processing, computer vision, robotic process automation, knowledge management, object and pattern recognition, deception and anomaly detection, data integration, and advanced visualization.