Digital engineering is the advanced computerization of systems engineering practices.
Digital engineering enables enterprises to create complex, latticed systems of products, services, and capabilities more quickly and effectively from within a digital ecosystem.
Inside this virtual and connected ecosystem, by using advanced technologies to digitally generate, curate, share, extract, and work with computable data and information, enterprises can conduct explorations and collaborate efficiently and accurately on complex systems. With digitization, teams can rapidly manipulate system designs and architectures and study resulting strengths and weaknesses, informing performance and unlocking insights that lead to innovation.
Digital engineering teams also use visual models to clearly convey design intent with each other, customers, and partners, as part of a model-based systems engineering approach. Everyone who has components of the system can immediately understand how elements and changes impact upstream and downstream engineering activities and their own work.
Unlike the sequential, iterative approach of traditional engineering, digital engineering lets organizations accomplish agile development and quickly identify the best solution to a problem.
SAIC's digital engineering services accelerate the value of your engineering enterprise.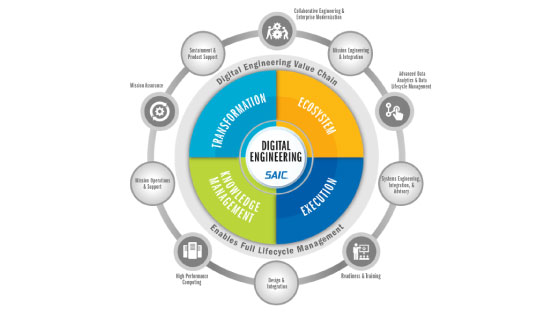 SAIC is leading digital engineering integration for the government with a set of services that advises customers on implementation paths, establishes customized digital ecosystems, and trains them on tools, methods, and processes. We also perform digital engineering execution services for customers.
We offer these services in modular, affordable stages for a customer in transition to digital engineering or as a turnkey transformation package. Our digital engineering staffs comprise engineers from multiple disciplines, domain experts, systems engineers with modeling expertise, IT specialists, and others who can advise on and support enterprise strategy and organization, capital investments, and technology vendor management.
Click on the graphic to learn more about our digital engineering services supporting your full engineering life cycle.
---
Digital engineering doesn't alter good engineering fundamentals. It augments and automates the way your organization practices them, leading to digital transformation and an agile engineering enterprise.
---