Satellite Servicing and Proximity Ops
We support a NASA robotic spacecraft that is equipped with the tools, technologies, and techniques to extend the lifespan of satellites—even if they were not designed to be serviced in orbit. These same technologies can be applied to other proximity domain missions.
Parker Solar Probe
NASA's Parker Solar Probe helped make history—before this project, no man-made object had ever visited the Sun. SAIC was part of the independent verification and validation team that ensured this complex spacecraft could approach the Sun without burning up in the intense solar heat.
GPS Satellites
We perform systems engineering and integration for the Global Positioning Satellite program, supporting the building and launch of GPS space vehicles (SV), updating the control segment that talks to the SVs, and integrating new military user equipment.
SBIRS
Our systems engineering and integration experts were instrumental in the successful operations acceptance of the next-generation OPIR ground system: SBIRS Block 10. This delivery culminated a 20-year endeavor, achieving COCOM system acceptance.
International Space Station
We have delivered systems engineering and verification and validation in support of the International Space Station for more than 23 years. We have supported everything from assembly to continuous operations. We currently ensure the safety of our astronauts with our engineering, from onboard life-support to space suits.
Climate and Weather Modeling
SAIC provides the technical support needed to develop, document, and maintain the climate-measuring infrastructure of NOAA's information network. We helped the organization evaluate its strengths and weaknesses in climate prediction.
Intercontinental Ballistic Missiles
We have developed a quick reaction analysis tool suite to evaluate ICBM threats and concept exploration. We are also performing systems engineering and integration and testing for current ICBM systems.
Hypersonic Vehicles
We modeled space sensor augmentation to address hypersonic threats, supporting technology advancement of defense systems, offensive weapons, and sensors.
Orion Spacecraft
Our teams in Houston and Huntsville perform software safety and mission assurance for NASA's Orion spacecraft and Space Launch System.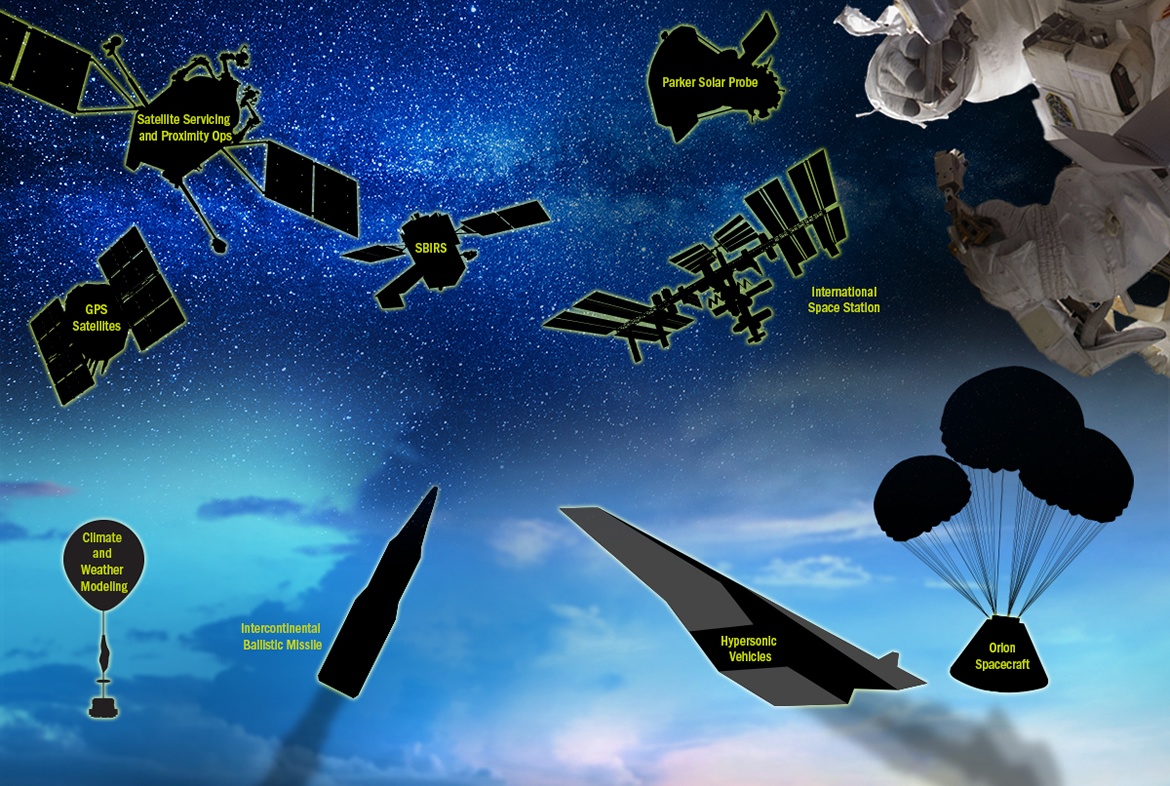 Space Launch Systems
We executed mission assurance on the first Falcon 9 launch for DSCOVR (Deep Space Climate Observatory) into orbit a million miles from Earth to warn of solar storms.
Space Training
In addition to training future space warfighters, our team supports the Neutral Buoyancy Laboratory for both the International Space Station and the Orion spacecraft.
End-to-End Launch Support
We have supported more than 250 launches, including first-of-kind moments and human spaceflight. The support spans everything from launch integration to range integration and mission assurance.
Cyber Hardening/Space IT Support
We deliver cyber hardening into space system architectures at the DOD, NASA, and intelligence community. We are also a top-3 IT provider to NASA.
Command and Control and Mission Operations
Across all space organizations, we support current ops and design systems of the future for operating in contested space.

SECURE
From launch system assurance to cyber protection, we worry about the details so that our customers can stay on mission. We perform a variety of tasks to ensure they remain focused on domain resiliency and accessibility.
SAIC conducts threat and vulnerability analysis of current systems and evaluates and implements risk mitigation approaches to increase system resilience. Our team of technology, subject matter, and operations experts combine to understand battle management and conducts independent vulnerability testing that includes insider threat assessments.

Our digital engineering suite of tools allows us to better design, develop, and deploy effective systems that optimize mission impact. Assessing both current and future potential variables in the space environment, digital engineering handles multi-mission analysis. Deploying solutions with an eye toward the future is ideal for space portfolios.

Mission engineering is our resilient architecture and validation/evaluation tool. This approach uses modeling and simulation to investigate important issues facing the warfighter and interacts seamlessly with the analyses performed by our digital engineering suite. Mission engineering can enhance warfighter capabilities with multiple designs created for each scenario.

Quick response modeling delivers fast, accurate analyses to senior government leaders. This tool features an in-depth modeling and analysis environment supporting the evaluation of system performance across various capabilities. For instance, we can apply physics models to verify portfolio selections for a constellation consisting of various missions. Then, we can feed those analyses into a decision loop to secure the best possible selection.
SOLVE
We enable our customers to capitalize on emerging technologies to meet current and future threats. They leverage our systems engineering, operations expertise, and our open architecture approach to realize solutions quickly.
By applying model-based systems engineering, we evaluate sensor and communications concepts and architectures, conduct experiments and tests to evaluate performance against predicted values, and define implementation paths for new systems and upgrades for existing ones. And, as a leading systems integrator, we leverage commercial solutions in combination with government systems in the most effective ways.

Satellite Servicing
The work of our team on NASA's Restore-L robotic spacecraft will give satellite operators new ways to manage their fleets more efficiently and derive more value from their initial investments by extending the life of satellites already in orbit. Our efforts could help mitigate the looming problem of orbital debris, or space junk.
SURPASS
We invest in solutions that maintain our nation's physical and economic security as well as lead the world in exploring the cosmos.
SAIC does this by working with both traditional and non-traditional space companies and reaching out to academia across the country for concepts and thought leadership. We rigorously evaluate opportunities for new technologies—as well as their risks. We streamline acquisition efforts to accelerate technology adoption, and we invest in advanced technologies to keep our customers ahead of the game.

Virtual Mission Trainer
Our virtual training environment is based on a proven platform that we have deployed in support of the Air Force's Pilot Training Next program. A cost-lowering virtual reality simulator that can be ported to multi-variant platforms, the virtual space mission trainer enhances training for space operators and reduces their time needed to achieve skill sets. We can simulate a space battle management environment.