ReadyOne Digital Engineering Ecosystems
Turnkey infrastructure and environments with fully integrated industry-leading apps that your teams can use immediately for engineering, development and collaboration
ReadyOneTM is SAIC's platform to rapidly install and configure readily usable digital engineering (DE) ecosystems for engineering teams and stakeholders. A ReadyOneTM instance, tailored for your organization and hosted in our secure cloud, enables your users to develop and iterate together while generating and leveraging shared data from design all the way through sustainment. You can also request us to build and fully manage a ReadyOneTM instance that's on premise and highly tailored with your preferred DE tooling.
Meeting your goal for easy-to-implement DE infrastructure and adhering to the Department of Defense's (DOD) strategic initiatives for DE, ReadyOneTM integrates industry-standard tools for engineering and additional problem-solving capabilities and technologies, such as AI, virtual reality and digital twins. Creating the digital thread backbone and authoritative-source-of-truth data to synchronize activities, ReadyOneTM facilitates full-lifecycle efficiency and effectiveness to accelerate engineering program execution.
Get ReadyOneTM by contacting us or keep scrolling to learn more.
---
READYONETM ENABLES YOUR TEAMS TO MOVE EFFICIENTLY AS ONE FROM CONCEPT TO SOLUTION IN A UNIFIED DATA ENVIRONMENT — VITAL TO TODAY'S MISSION SUCCESS
Helping your engineering organization keep pace with today's dynamic and mission-impacting challenges, ReadyOneTM maintains digital unison of teams and activities. DE tools and processes are federated end-to-end to form the digital thread and then integrated within a product lifecycle management (PLM) platform that establishes a single shareable data model. Updates to the model are made in real time, visible to all stakeholders and complete with change-impact traceability. Specific domain data can be parsed from the data model to serve various disciplines and constituents.
ReadyOneTM arrives ready for use and is tailorable, fully managed and continuously maintained by SAIC, featuring:
Flexible Open Architecture to Avoid Vendor Lock-in
ReadyOneTM is tool- and database-agnostic, so you can specify a desired engineering and PLM application stack for us to federate together. Swap tools in and out as needs and technologies change. Some core applications we have delivered in customers' ReadyOneTM instances include Phoenix ModelCenter, Cameo Enterprise Architecture, Aras Innovator and IBM Rhapsody and Jazz. Everything arrives licensed and configured as a tool chain using our APIs and connectors. Cloud-based, automated deployments reduce implementation time from months to within a week.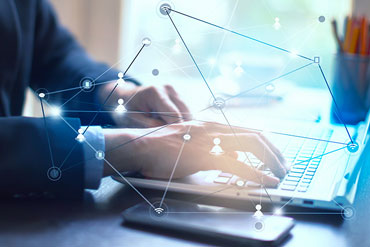 Anytime Remote Access through Secure Cloud
ReadyOneTM users are given accounts to access the distributed environment in our secure, DOD-compliant cloud. All they need is a broadband Internet connection on their devices to use their web browser-based DE applications anywhere 24/7. Sessions are delivered via application streaming from high-resource, scalable server instances, so users can run multiple applications simultaneously. We use data-centric architecture for ReadyOneTM, which means your organization's data is protected, maintained independently of applications, and made permanent, portable and easier to share with other disciplines and organizations.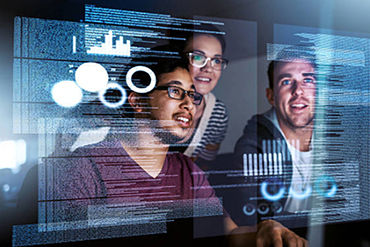 Cloud/on-premise Implementation for DE the Way You Need It
The digital engineering team from the SAIC Engineering Innovation Factory can deploy your tailored and preconfigured environment with our "any tool, any digital thread" flexibility, from several applications up to a full-lifecycle tool chain. The team can clone the ReadyOneTM base platform on your own cloud instance or on-premise, and then continuously integrate performance- and efficiency-enhancing technologies and capabilities as they emerge, including AI and machine learning. Use ReadyOneTM as a starting point to build out a private, dedicated and highly tailored DE ecosystem, which we can run and maintain on your infrastructure, systems and networks.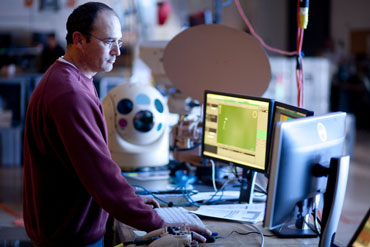 Expert Evaluation and Support
ReadyOneTM is fully supported by SAIC's DE service offerings, including consulting and training by experts from our Engineering Innovation Factory. We can deploy our highly experienced experts to assess your DE needs and readiness and then plan and execute your ecosystem implementation. We also provide instructor-led as well as on-demand training to upskill your staff's use of ReadyOneTM, further reducing barriers to entry for adopting DE solutions and accelerating workforce and cultural changes toward digital model-centric design, development, execution and sustainment.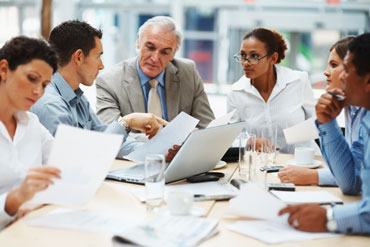 CONTACT US TO GET READYONETM
Fill out a brief form to provide some information about you and have one of our digital engineering experts reach out with detailed information about our proven and award-winning DE ecosystem.