Marines can react before the enemy acts
Command and control hardware and software in fielded Combat Operations Center (COC) systems delivers information about enemy combatants quickly to Marines.
The COC is the central nervous system for any Marine Corps mission; information is received and processed then instructions or decisions are sent back to units via secure communications. To keep these mission-critical information hubs operational our team of engineers in Charleston, South Carolina, test and integrate the hardware and software, to guarantee the products work as designed and are secure. To ensure that Marines get the latest equipment and to keep cost low, we use procure commercial-off-the-shelf technologies.
Once fielded, we deliver, maintain, test, and refresh all of the equipment and software inside. Marines can concentrate on the task before them while we help deploy each COC by taking care of the
Systems engineering
Logistics
Testing
Software integration and development
Information assurance and software security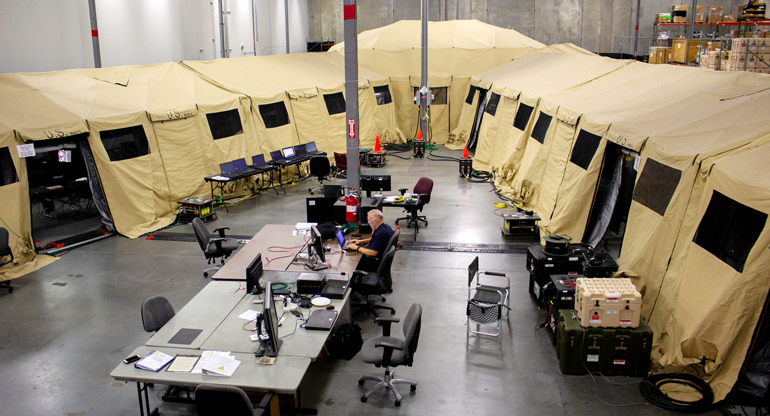 Standardized IT enables better decision-making
A COC is a deployable, self-contained facility filled with computers, displays, mobile devices, and satellite imagery. COCs in use today are far more useful than earlier versions, which were primarily tents with radios and units that did not communicate well with each other. Technology varied by unit and the lack of standardization resulted in devastating missteps.
"When the people making decisions do not have complete and up to date information, Marines may potentially be killed. You could drop bombs on positions where your own units are or fail to detect enemy units," said SAIC Chief Engineer Bill Johnson.