09-05-2018
Pilot Training Next offers innovative approach to preparing aviators
Training is an essential part of aviators' ascensions to flight readiness. Before getting into an actual aircraft cockpit, they typically train in high fidelity simulators, but the limited number of these sophisticated, million-dollar machines constrains their training hours.
However, the U.S. Air Force's Pilot Training Next (PTN) program is changing the flight training paradigm and getting undergraduate pilots up in the air faster. Having entered its third iteration in January 2020, PTN uses significantly less expensive yet effective simulators built with commercially available components to give students in undergraduate pilot training (UPT) extra "flying" time.
Since the program's start in early 2018, SAIC, in partnership with the U.S. Army Combat Capabilities Development Command Aviation & Missile Center, at Redstone Arsenal in Alabama, has been supporting the Air Force by integrating the virtual reality (VR)-based training environments.
The Air Force came up with the PTN concept and approach of bridging the classroom-to-enterprise simulator gap and looked to an experienced technology integrator for help with execution. PTN students are given desktop-size simulators for round-the-clock access to an immersive simulation environment in their living quarters. We set up a virtual trainer for each pair of roommates to conduct training on their own time.
SAIC has the specific expertise of integrating training technologies, including VR and artificial intelligence (AI), and got things up and running quickly. Our work also includes establishing virtual training stations inside schoolhouses for instructor-led, formal classroom training.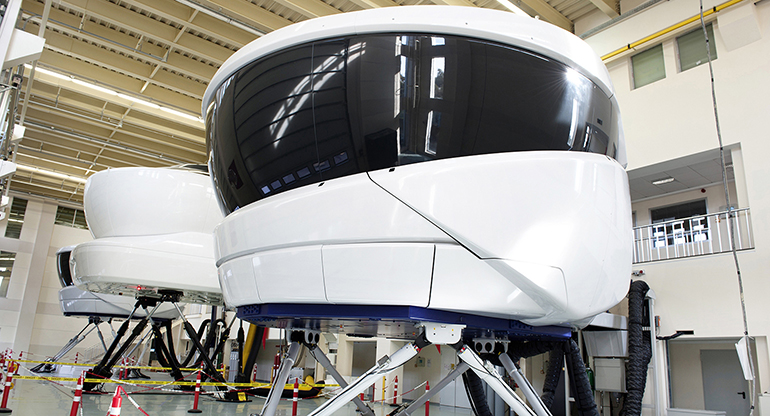 "We act like a special forces team," said senior engineer Jennifer Lewis, a modeling and simulation expert. "The SAIC employees on the PTN program wear multiple hats and work in close synchronization. But they can act on their own when needed to accomplish program objectives. Every employee has a holistic understanding of the program."
Because of that teamwork, the Air Force was able to graduate PTN's inaugural 2018 class in half the traditional UPT time. The graduates, possessing a combination of flying hours in the T-6A Texan II—the military's primary aircraft for basic flight training—and training hours in the simulators, then transitioned to follow-on training in flying training units.
After the first cohort's success, SAIC supported PTN's second iteration, which concluded at the end of August 2019. The second class comprised a mix of aviators from the Air Force, Navy, and British Royal Air Force, as well as remotely piloted aircraft (RPA) pilots.
At mid-semester, PTN moved the class from the Armed Forces Reserve Center in Austin, Texas, to Randolph Air Force Base in San Antonio. Demonstrating the technology's portability and our agility to meet customer needs, we moved the program's entire infrastructure and stood it up again in three weeks.
Changing the game
With greater computing power and VR technology improvements, desktop-size commercial off-the-shelf (COTS) hardware can generate realistic-looking environments and accurately simulate aircraft physics in real-world conditions.
Through PTN, students with increased access to good-fidelity simulations have shown that they become more comfortable in the actual cockpit and go through the pilot curriculum faster. By giving students their own workstations, the low-cost training solution engages them in individualized training, as well.
In fact, VR simulation has expanded to the Air Force Academy in Colorado Springs. We have helped implement virtual training stations in a distance-learning setting where cadets learn on their own without instructor help and are then evaluated. So far, instructor pilots assessing the cadets at the end of the self-learning stage have been impressed with their uptake.
Last month, U.S. Army Aviation started incorporating VR-based training into its pilot curriculum. Called Aviator Training Next, the six-week program at Fort Rucker in Alabama continuously rotates in new pilots-in-training to learn rotary wing aircraft.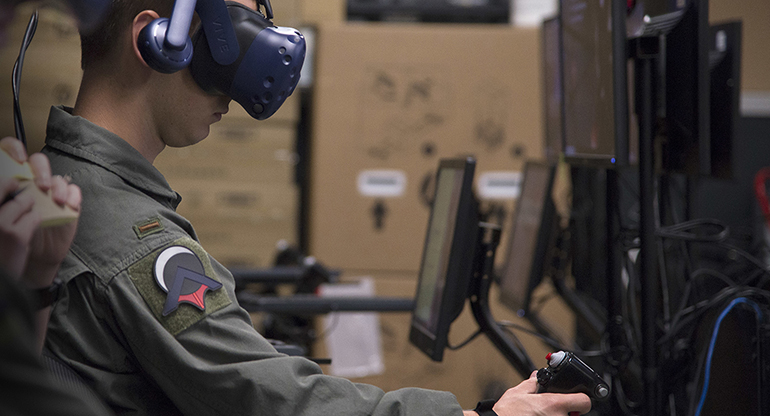 Because commercial products are constantly improving, and their cost is very low, PTN can keep upgrading equipment with little additional investment. We are also developing VR content software via a continuous integration/continuous delivery method, regularly adding and adjusting features. And, data tracking is built into our training solutions, so instructors and trainers get constant feedback on students' progress.
For PTN's third iteration, students fly the T-6B Texan II aircraft in both simulations and live flights. The T-6B is an upgraded avionics variant of the plane, requiring us to update all of our 3-D and flight models.
By empowering student pilots with their own VR workstations, and giving them 24/7 access to immersive training, we are helping the U.S. armed services transform their training culture and accelerate learning.
FURTHER READING: Learn more about SAIC's VR solutions:
Virtual Training Is No Longer Sci-Fi Fantasy
Serious Games: Training Our Military