Virtual-based training forges the U.S. Navy into a team
The U.S. Navy and partner nations protect the free flow of maritime trade and national interests across more than 70% of the Earth's surface with a limited number of ships. The multitude of potential scenarios associated with this mission requires complex training, which can be a difficult and expensive challenge to execute in a live environment. Bringing multiple ships, numerous aircraft, and a large consortium of units to the same place at the same time for live exercises is always a major logistical effort.
Enter virtual training, which the Navy calls Fleet Synthetic Training (FST). FST is a virtual training environment in which naval warships are networked together while pier-side simulators enable sailors to train together without the limitations of at-sea training. The FST architecture also enables personnel in aircraft simulators and other military simulators to participate in the virtual environment. 
FST reinforces staff processes and best practices so they become second nature before more advanced live training at sea. FST enables multiple users across the world to operate in integrated, joint, and coalition environments to accomplish multiple objectives, by:
Preparing strike groups to execute maritime operations.
Establishing battle rhythm/planning cycles.
Exercising watch teams in a dynamic, robust, and tactical environment.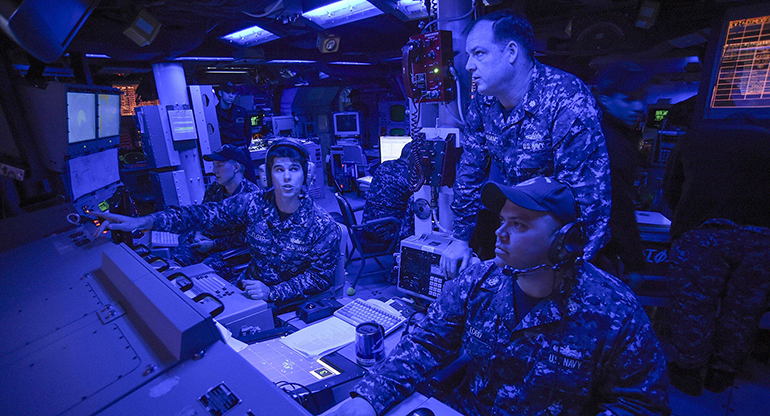 Benefits to the fleet
FST reinforces tactical planning and execution throughout the Navy's pre-deployment training cycle while providing significant benefits to the fleet, including:
Robust team-building between ships and staffs in a warfighting environment without the need to get underway.
Capability to accurately replicate any level/type of threat scenario without range restrictions, opposing force limitations, or weather considerations.
Capability to train globally dispersed forces in a common synthetic environment.
Training that can be quickly customized to focus on certain topics or aspects.
Majority of Navy tactical tasks can be completed by crews and assessed by evaluators as units progress towards certification.
Significant cost savings compared to same-scale live field exercises.
Positive reinforcement of tactical planning and execution throughout the Navy's pre-deployment training cycle.
Capability to refocus scarce resources on identified deficiencies.
Live, virtual, and constructive (LVC) is the way ahead
The Navy has used synthetic training for more than 15 years to prepare ships and strike groups, following the adage "Train in Port, Validate at Sea." Over the past three years, synthetic training has expanded to provide a "live, virtual, and constructive" (LVC) mode that merges the best of live and synthetic training. LVC incorporates the realism of live operations at sea with the capacity and capability of FST.
During initial training, the Navy tests networks, assesses vulnerabilities, and conducts training at the unit level. As pre-deployment training progresses, it plans and executes more advanced scenarios involving multiple strike groups.
These operations train to the full range of likely maritime missions and introduce the strike group operators to joint forces — e.g., Army, Air Force, and Marine Corps — as well as the tactics, techniques, and procedures (TTPs) of partner nations. The training culminates with multi-strike group operations against a peer competitor to test all the knowledge acquired in previous stages.
Pre-deployment training may now culminate with an at-sea Composite Training Unit Exercise (COMPTUEX) that includes constructive synthetic entities augmenting live opposition force (OPFOR) units to enhance the exercise's complexity and realism. Recently, the Navy used LVC to merge constructive and virtual entities with live units to create a complex, integrated threat presentation.
Operators were able to detect, track, classify, and engage live and constructive entities with both kinetic and non-kinetic effects through a variety of scenarios. During this phase, LVC units replicated high-end threats employing the full spectrum of enemy TTPs, providing watch teams the opportunity to apply the lessons learned from previous training phases.
Impressive as recent exercises have been, the Navy's use of LVC is still in the formative stages, and many technical and operational details remain. However, it's clear the Navy will use LVC training to forge its strike group teams in the future.
MORE ON FLEET SYNTHETIC TRAINING: Go to our interactive infographic on Fleet Synthetic Training for more details on the solution.
Photo courtesy of DVIDs. The appearance of U.S. Department of Defense (DOD) visual information does not imply or constitute DOD endorsement.