01-03-2019
Training and engineering solutions help FAA manage systems, facilities, and personnel
Aviation's impact on Americans and the U.S. economy is huge: 10 million jobs, over 2 million daily travelers, and 42 billion pounds of freight each year. With our operations and modernization help, the Federal Aviation Administration (FAA) keeps people and goods moving and commerce humming.
We provide the FAA with a wide range of support:
Training: Aviation experts train new air traffic controllers and give refresher courses for existing controllers.
Engineering and technical support: Engineers design, build, install, and test a variety of systems and equipment.
Regulatory assistance: Subject matter experts develop procedures and flight standards for FAA regulations.
Program management: We help acquire, support, and field programs and systems.
The FAA's safety-first mission is what drives us.
"We live and breathe the mission every single day," said Sandy Gill, who manages our work for the FAA.
Readying air traffic controllers
Our certified team is involved in every step of air traffic controller training. Since the FAA retires air traffic controllers at age 56, we train and certify a large influx of new hires.
After basic training, they receive more advanced training to learn about the specific airspaces where they'll be employed. Both levels of training take place at the FAA Academy in Oklahoma City.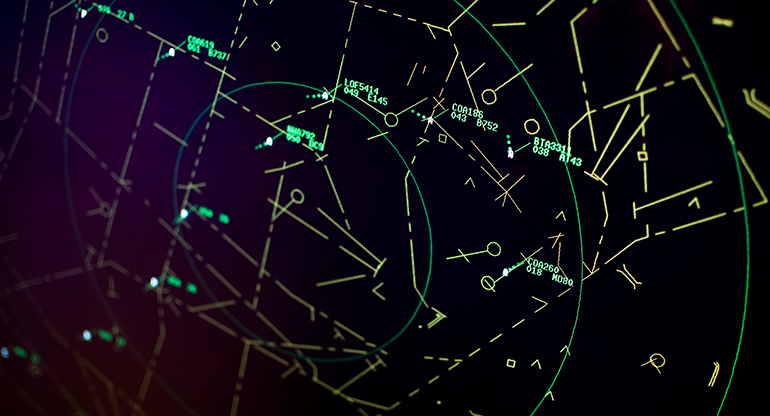 Our team manages refresher training for current controllers as well. We teach these classes in the field at more than 200 locations around the U.S.
All of our 1,700 instructors worked as air traffic controllers and retired within the past five years. They have modernized the instruction materials for the basic training course to be more interactive and web-based.
Supporting modernization projects
The FAA is in a multi-year investment and implementation plan for technologies, procedures, and policies that will benefit passengers, the aviation industry, and the environment, called NextGen. It will prepare America's air transportation system to be the safest and most efficient for generations to come.
We provide engineering and technical assistance on NextGen projects at FAA facilities around the country. The work ranges from designing and installing systems and equipment to conducting environmental assessments for new runways.
For example, we are part of an FAA project to modernize airport surveillance systems. With the aid of remote sensors, air traffic controllers can easily locate all structures, aircraft, ground vehicles, and equipment regardless of visual conditions to help pilots navigate safely.
We are also involved with systems that manage air traffic control, global positioning, traffic avoidance, and weather processing. A team is involved in advanced research and development projects with NASA in direct support of NextGen and the FAA.
The FAA also relies on our engineers to integrate unmanned aerial systems and vehicles into its National Airspace System to better track and communicate with drones.
As part of our work, we perform systems engineering, modeling and simulation, and testing and evaluation for projects.
The FAA has exacting processes and procedures for everything, from new aircraft certifications to drone registration, to ensure the protection of passengers, airports, and the airspace.
Our experience in aviation and flight technologies enables us to support those regulatory efforts. In fact, we employ several former Air Force One pilots, whose knowledge of aircraft and the airspace has proven to be invaluable.
We also provide regulatory assistance on drones. Some on our team help law enforcement agencies navigate the procedural process required to register and get a drone certified for flight.
A passion for aviation
Whether it is training air traffic controllers, managing hardware and software systems, or shaping aviation regulations, we are passionate about supporting the FAA. Aviation has shaped many SAIC team members in the military, the FAA, or life.
"It makes us want to get up and come to work to get our jobs done," Gill said.
Learn more about how our subject matter experts transform organizational training:
Trainers Help Air Force Master Acquisition Process