04-22-2019
Our work readies the MK48 Mod 7 for combat operations
The MK48 torpedo is the Navy's sole submarine-launched anti-submarine warfare and anti-surface warfare weapon. All classes of Navy submarines use it for achieving sea control and neutralizing or destroying threats to high-value vessels.
We build and integrate afterbody/tailcone sections of the MK48 Mod 7 heavyweight torpedo for Naval Sea Systems Command (NAVSEA).
Often considered the torpedo's engine room, the afterbody/tailcone controls the torpedo's propulsion, starts it, generates and applies the power necessary to drive it from the time it is launched until it reaches its target, and ensures it maintains its course to the mark.
The afterbody/tailcone comprises 26 major sub-assemblies requiring the integration of greater than 500 piece parts. Its sections include the:
Afterbody shell
Steering assembly
Tailcone assembly
Engine assembly
Coolant system
Fuel delivery system
Hydraulic system
Alternator/regulator
Lube oil pump
Type 2 cables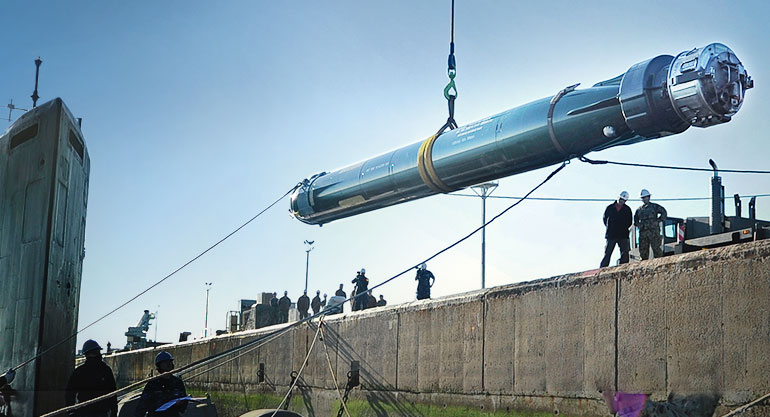 SAIC's team of subject matter experts work primarily in Bedford, Indiana, near Naval Surface Warfare Center Crane Division, where the majority of the MK48 integration work takes place. The contract's program and engineering management team is based in Middletown, Rhode Island, near Naval Undersea Warfare Center (NUWC) Newport Division. The design, development, and delivery of an automated electrical power system test set that is used to test the torpedo's alternator/regulator assembly are completed in Indianapolis.
Building on Past Success
For more than a decade, SAIC has provided engineering, technical, and management services in support of NUWC's Propulsion Test Facility. Our employees perform facility operations, maintenance, upgrades, and testing in support of the Navy's only land-based torpedo testing facility. In this capacity, SAIC engineers and technicians routinely integrate MK48 afterbody/tailcones in preparation for tests.
The Propulsion Test Facility can test torpedoes across their full speed and depth envelopes. Our employees run these tests to capture very unique performance data for NAVSEA.