05-06-2020
Analytic gaming is a qualitative method exploring how different people think, this time about the pandemic's effects
COVID-19 has changed how business is done in unprecedented ways. Most SAIC employees are working from home and practicing social distancing when we normally would be working side by side with each other and our customers. This pandemic is requiring businesses to rethink, adapt, innovate, and problem-solve in new ways.
SAIC's analytic gaming team saw an opportunity to gather data on how society has adapted to this "new normal" and what members of varying demographics believe the future holds. In April, SAIC sponsored its first analytic game conducted virtually, launching us into an entirely new way to execute simulations. This provided us with a timely and insightful analytic simulation, titled "Pandemic Perspectives."
"Pandemic Perspectives" explored when and how the U.S. could return to a sense of normalcy and lift social distancing restrictions. More than 40 individuals participated in the game from a variety of sectors, including academic, health services, education, business, law enforcement, and government, to encourage diversity in perspectives and viewpoints. The game's ultimate purpose was to explore how Americans from different backgrounds and generations think about the pandemic, social distancing, and the new normal.
"We wanted to ensure a diverse set of viewpoints to gain a more holistic picture," said Maureen Smith, director of AI in SAIC's Strategy, Growth and Innovation Group. "This group came from a variety of backgrounds and areas of expertise. This diversity then pushed participants to think outside of their comfort zone and recognize the value and fear that others may be feeling."
Forming the teams
Five teams were formed: three based on different generations, one comprised entirely of business leaders, and one filled with national security customers. The teams each responded to a variety of in-game questions, such as:
"What worries you the most about the current situation?"
"What will it take for you to return to 'normal'?"
"What do you think are the long-term consequences?"
Once responses were gathered, teams had opportunities to analyze and collaborate with other teams to gain perspective they may not have seen or thought of.
"The insight and innovation yielded through this simulation was so helpful in trying to understand what people believe normal is going to look like," Smith said. "To hear real concerns from a large group of Americans, that was really powerful."
Storming ahead
Among the concerns, most participants worried that a second wave of COVID-19 infections will crash on the world in the fall. How will the economy and society react?
Most participants also believed the new normal will look fundamentally different than before the pandemic. Business leaders were concerned with how the societal impact would balance with the business impact, especially if a second wave is looming. Business leaders specifically spoke with the national security customers about how long businesses can be shuddered without affecting our national security due to weakened and unstable supply chains.
But there are silver linings, albeit thin. Innovators and startup businesses are likely to have an advantage in the reemerging economy, as they design their business models with greater resilience against future crises. Supply chains will be redesigned to be more resilient, though efficiency gains may be sacrificed for the sake of addressing vulnerabilities. And military readiness, as assessed from a wartime-footing perspective, is predicted to remain largely the same, though perception can be different than true readiness.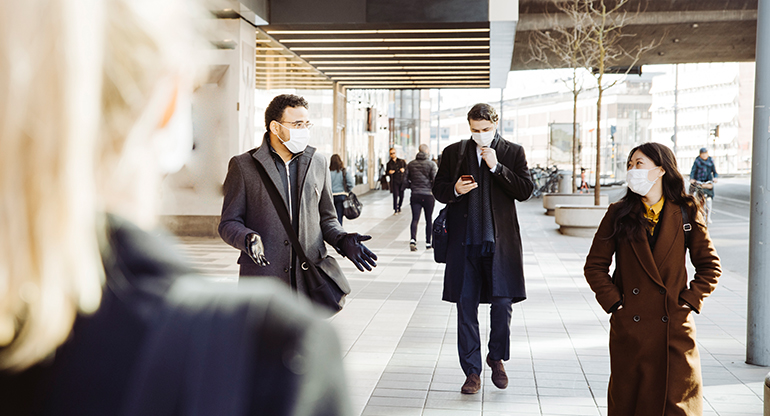 Normalizing in the long term
Many game participants were nervous about contracting COVID-19 and felt that even as states reopen, individuals would be safer at home and should continue practicing social distancing to remain vigilant against infection. They identified a few key concerns, such as how our healthcare system will address long-term needs and how long the economy can soldier on.
"As the participants received fact-based data, they saw things more rationally," Smith said. "There's such a fear- and emotion-based paradigm going on right now, and it can be detrimental to mental health on top of the concerns about the virus itself."
After the game, it was reaffirmed to teams that they weren't alone in their concerns. For example, the oldest crowd of participants learned that the youngest group was anxious about how strategic social distancing guidelines could be lifted across the nation. And the youngest group saw that in order to help older members of society feel comfortable in public, they must step up by adhering to social distancing guidelines and wearing masks.
"This was a fascinating exercise. I was really impressed with how well it came off," said one participant, a national security professional. "I enjoyed working with the SAIC team, and today was a big win as we try to understand our world."
MORE ANALYTIC GAMING: SAIC team conducts daylong game on 2020 and its effects