04-28-2020
In observance of Asian Pacific American Heritage Month, SAIC interviewed colleague Ryan Dedios, an SAIC engineer who is part of our team supporting the U.S. Navy Consolidated Afloat Networks and Enterprise Services (CANES) program and who is of Filipino descent. Dedios is also a leader in SAIC's Multicultural Employee Resource Group.
Ryan Dedios believes the best way to make a real impact in any important endeavor is to get directly involved. A second-generation Filipino American, Dedios is an SAIC senior field engineer and a leader in our company's Multicultural Employee Resource Group (MERG), a forum to celebrate our employees' ethnic and cultural differences and champion underrepresented minorities. Dedios believes that diversity, equity, and inclusion inside and outside the workplace strengthens all.
Born and raised in Charleston, SC, Dedios and his family are active in local Filipino community activities and also support non-Filipino endeavors. "We've always believed in helping others," Dedios said. "My family through the years has supported our local Filipino community, comprised of many retired and current military families, and the Filipino Travelers of Charleston," he said of the group formed 40 years ago by Filipino masons that has become a large charitable organization working with all ethnic communities in the Tri-County area.
Dedios carries this core value of unity to work at SAIC's Charleston facility. He has helped organize informal heritage events at the Charleston facility celebrating other minority groups and now serves as the site lead for SAIC Charleston's diversity, equity, and inclusion events through the MERG.
Last year, when Dedios was raising the spotlight on Asian Pacific American Heritage Month, he was surprised he won the Society of Asian Scientists and Engineers (SASE) Professional Achievement Award.
Richard Baturin, Dedios' manager, had quietly nominated him for the award because of his diversity, equity, and inclusion efforts and for being a role model in the workplace, in addition to his professional contributions in support of SAIC's defense customers that include the U.S. Navy. Dedios went to the SASE National Conference in Pittsburgh last July to accept his award.
Representing SAIC in front of SASE, a nationally recognized technical and professional organization, Dedios recalls the importance of that moment. "Asians are underrepresented," he said, but going to Pittsburgh showed "all minority groups that we're a part of SAIC."
Dedios has been with SAIC for more than a decade. He supports the design, production, and integration of hardware and software on the Navy's vessels running the Consolidated Afloat Networks and Enterprise Services (CANES) platform. CANES is the Navy's multiyear effort to streamline and upgrade five legacy networks responsible for ship-to-shore command, control, communications, computers, and intelligence.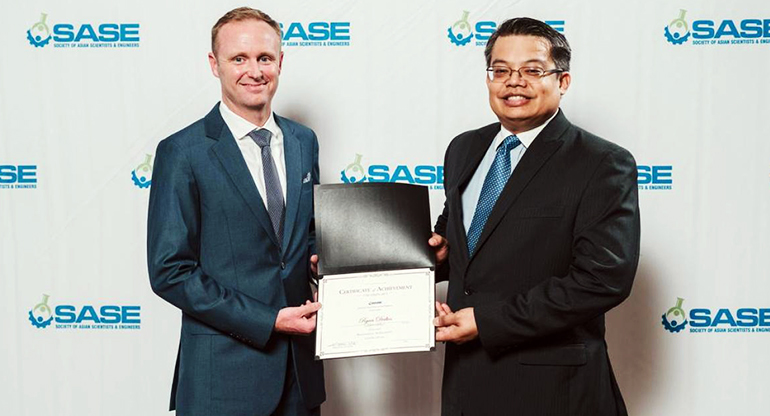 Since he's been on the program, Dedios has touched nearly every facet of the development-to-delivery chain, from pre-production work to performing shipboard installation and quality assurance — and notably procurement and logistics.
He credits his father, Nemesio, a retired U.S. Navy lieutenant, for exposing him to serving the nation and government work. "My father was a supply officer," Dedios said, "and his last stint was providing medical and food supplies during Hurricane Andrew in 1992."
Dedios' mother, Leticia, retired from civil service for the Defense Finance and Accounting Service. He has an older sister, Jennifer, who is a physician practicing internal medicine in Dublin, California.
Dedios' knack for understanding the movement of materials translated to procurement and logistics support, where he ensured that equipment was pulled together for CANES integration as a field engineer. And, with a master's degree in IT and internet security, his SAIC role later evolved to designing products, leading a small team within SAIC's overall CANES support efforts.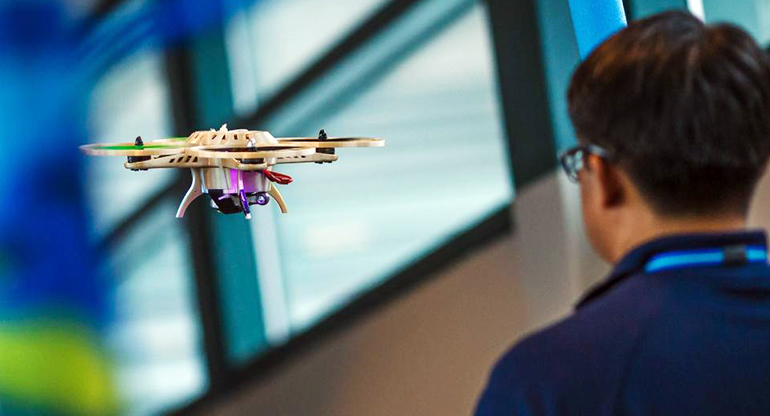 Today, Dedios extends his helpful hand by mentoring two colleagues on his team — a drafting engineer and an electrical technician. "I guide them with career advice and try to make their jobs easier, showing them what they need to do professionally," Dedios noted.
Before the COVID-19 pandemic hit, Dedios was still actively involved in local Charleston community, sports, and church events before he began to divide his time between his hometown and Anchorage, Alaska. "My wife is a registered nurse who also became a pharmacist and got a job there," he pointed out.
When he's up north with his wife, Debraliz, he performs drafting and design work in support of our CANES work, while taking care of his two daughters, five-year-old Maya and seven-month-old Zoe. But, no matter where he happens to be, Dedios will continue to be involved in SAIC's diversity, equity, and inclusion efforts. "That's just the person I am," he said.