05-26-2020
Established in 2018, the employee resource group builds awareness and understanding across our company and communities
SAIC's values of integrity, empowerment, and innovation guide the way we operate and act as a company. Since 2018, the SAIC Equality Alliance has been a resource and champion for SAIC's lesbian, gay, bisexual, transgender, and queer employees, raising LGBTQ awareness and promoting equality and understanding. We believe that a workplace environment that values all individuals and allows them to bring their authentic selves to work every day helps power our values, and the Equality Alliance plays an integral role in strengthening our culture of diversity, equity, and inclusion.
Creating opportunities for all voices to be heard, our culture allows everyone to grow to their full potential and bring unique insights and perspectives that lead to better business outcomes for SAIC and our customers. "SAIC is a company that is united by purpose, respects diversity, and ensures our people can be their best selves," said Jeff Raver, Equality Alliance co-lead and interim general manager of the Solutions & Technology Group.
The Equality Alliance is one of seven employee resource groups (ERGs) in our MOSAIC diversity, equity, and inclusion program. As important as providing our LGBTQ employees with a venue to meet up and network, the Equality Alliance builds connections across our company and in communities where we operate. It provides LGBTQ educational resources, discussion forums, career opportunities, and citizenship and community engagement.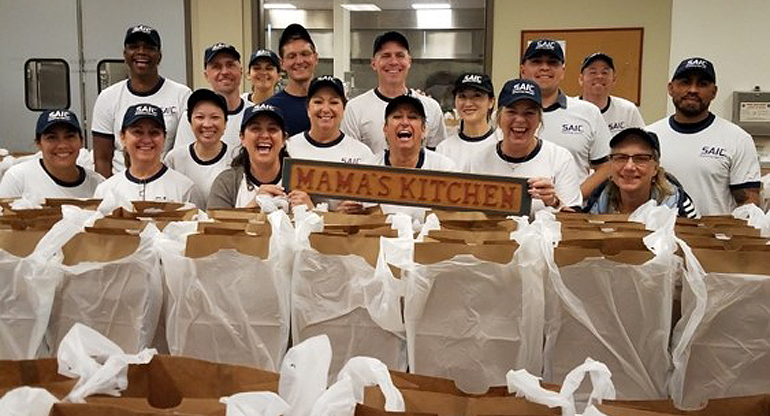 Raver — alongside Joanie Hastings, SAIC's director of pricing and Equality Alliance co-lead, and Tom Wofford, senior VP for internal audit and the ERG's executive sponsor — believes that one of the best ways to promote equality and understanding is to know and work with someone who is LGBTQ. That's why membership in the ERG is open to all SAIC employees.
"It's the biggest part of the Equality Alliance's mission," Raver said. "Equality represents everyone. You don't have to be LGBTQ to join, and that's the way it should be."
SAIC is a best place to work for LGBTQ equality
The Equality Alliance has helped SAIC to become one of the "Best Places to Work for LGBTQ Equality" named by the Human Rights Campaign (HRC) Foundation. For the second consecutive year, SAIC earned a perfect score on the HRC Foundation's Corporate Equality Index, which is the national benchmarking tool on corporate policies and practices pertinent to LGBTQ employees.
The perfect score exemplifies SAIC's all-in commitment to providing LGBTQ support, from health insurance and medical coverage; to communication, education, and training; to volunteerism. Along with helping to incorporate LGBTQ-inclusive language into SAIC's policies, the ERG established a monthly membership newsletter and a website on the company's intranet with an FAQ section and additional LGBTQ resources that all SAIC employees can access.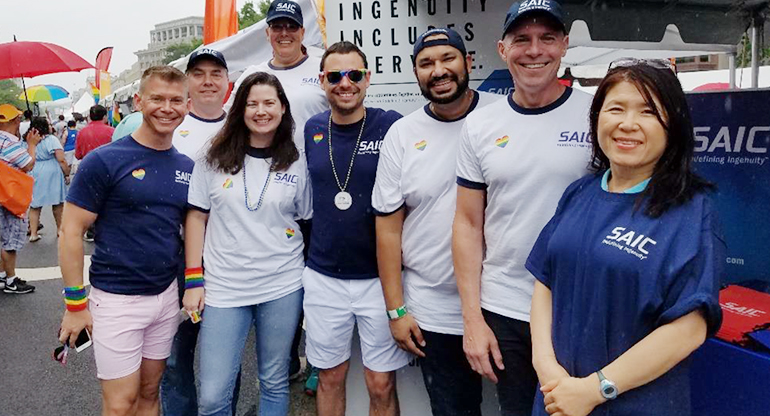 Volunteering to fight food insecurity across the U.S.
Hunger disproportionately impacts the LGBTQ community. The Equality Alliance thus has fully embraced SAIC's partnership with Feeding America since 2014, helping the company raise enough money to donate over 12 million meals to people in need across the U.S.
Every September, during Hunger Action Month, Equality Alliance members at SAIC locations across the country get together with other ERGs and employee volunteers to help out at Feeding America's network of food banks and pantries as well as to raise money through workplace social events and local happy hours.
The Equality Alliance also has facilitated SAIC's partnerships with historically LGBTQ-focused hunger-relief groups. The ERG regularly brings volunteers to organizations such as Mama's Kitchen in San Diego and Food & Friends in Washington, DC, where they sort and package prepared meals and groceries.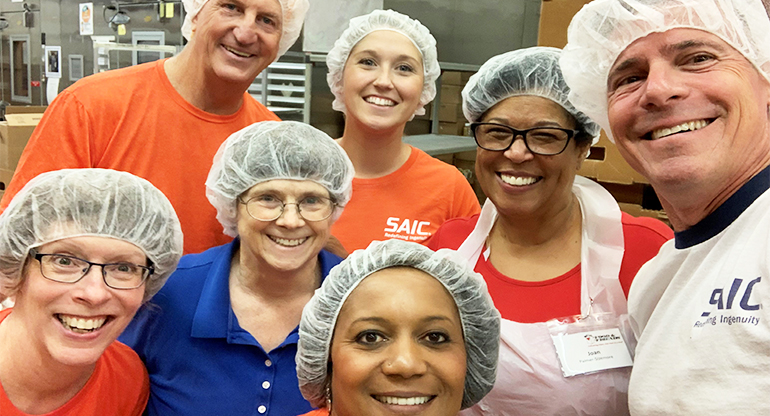 Celebrating LGBTQ Pride
Not only does the ERG give back to the communities where SAIC employees work and live, it delivers a meaningful impact to their personal lives. Through the Equality Alliance, SAIC sponsors and supports employee activities at a host of regional Pride celebrations, including:
Oak Ridge Youth Pridefest in Oak Ridge, Tennessee
Rocket City Pride Festival in Huntsville
Knox Pridefest in Knoxville, Tennessee
Capital Pride Festival in Washington, DC
Upper Cumberland Pride Festival in Cookeville, Tennessee
San Diego Pride Festival
SAIC and the Equality Alliance also take part in Major League Baseball LGBTQ events. In 2019, at the Washington Nationals' Night OUT, more than 100 employees, family members, and friends gathered for a celebration with other Nats fans. It was the company's third year working with Team DC sponsoring this event. Meanwhile, nearly 100 employees, family members, and friends went in force to our first San Diego Padres Out at the Park celebration.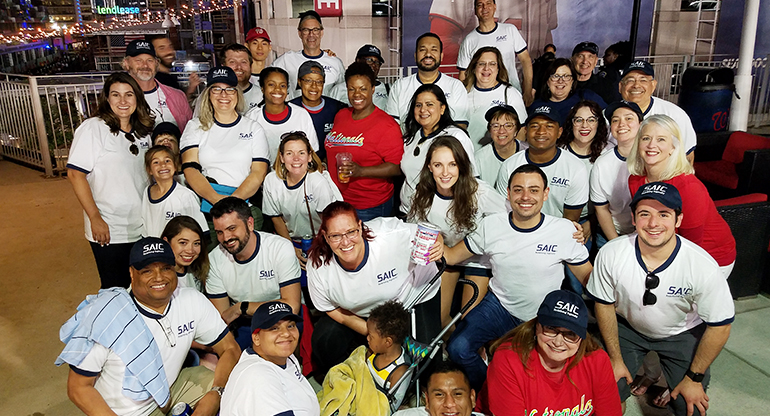 Getting through COVID-19
Even though the COVID-19 pandemic has postponed or canceled many Pride festivals and events this year, the Equality Alliance continues to be active, holding a virtual happy hour this month and taking part in LGBTQ celebrations on social media using #SAICequality.
"It is a challenging time, but we shouldn't forget to celebrate," Raver said. "We will continue our activities online and engage the SAIC workforce and our communities, but we will ultimately be able to gather together again for events, sports, and work."
SAIC, on behalf of the ERG, has provided additional COVID-19 relief donations of $10,000 each to Food & Friends and Mama's Kitchen, as part of a company pledge of over $500,000 to support hunger-relief organizations in 2020. The pandemic, however, has allowed a brief pause to reflect on what the Equality Alliance has accomplished in just two years.
"I am thrilled that we have done so much in the short time since our launch," Raver said. "I get excited every time I see our perfect score on the Corporate Equality Index because it represents what we at SAIC have collectively accomplished."
Raver continued, "The Equality Alliance was established with a clear set of goals, and SAIC fully embraced them. We have been full speed ahead."