01-05-2019
Prefab pieces let shooting range be stood up quickly anywhere
Military, law enforcement, and security agencies need places for their officers, agents, and warfighters to keep their weapons training sharp. But providing the infrastructure, and building it quickly, shouldn't be a distraction from their mission priorities.
For over 15 years, we've supplied QuickRange facilities around the world, standing up these live-fire shooting ranges from pre-fabricated and modular components.
QuickRange creates a safe, ballistically contained envelope. It is manufactured in multiples of two firing lanes and as one- and two-story structures. Layout options for the latter include a first floor of 26 shooting lanes of 50 meters in length and a second floor of 26 lanes that are 25 meters long.
The modular ranges are expandable. Lanes can be added as training requirements change or budgets become available. Traditional target systems can be upgraded to become video enhanced.
We can also build a completely custom range with as many shooting bays as a customer requires and to the lengths it wants up to 100 meters. QuickRange's open-floor plan enables tactical move-and-shoot scenario training.
Along with configuration options, customers can select:
Low-angle steel traps. The V-shaped traps stop and contain 7.62 and 5.56 millimeter standard ammunition of all types, without backsplash or ricochets, fired by ATI Class 1 and Class 2 rated weapons from at least 3 meters. Constructed of AR500 steel plates, the traps direct bullets into a circular deceleration chamber, while an automated system collects spent rounds and debris for disposal or recycling.
Complete HVAC and air purification system. The "once-through" air handling system provides a minimum laminar flow of air at the firing position and captures 99.95 percent of airborne contaminants. Panel-controlled, the system has visual and audible alarms alerting users to halt firing in the case of failures.
Various light configurations. This includes lighting for night-time firing conditions.
Target systems. Opt for two ground-mounted turning target mechanisms or two overhead, retrievable targets per module. Each shooting lane comes with an independent target controller.
Advanced targetry and simulations
The PRISim Suite P1000 advanced training simulator provides realism to live firing at interactive, high-definition virtual targets. It gives users video-based scenarios with which to practice. High-speed bullet tracking sensors detect 9, 38, and 50 caliber rounds.
We design and manufacture QuickRange to the highest international standards and ensure that no rounds fired within the training area will exit the range.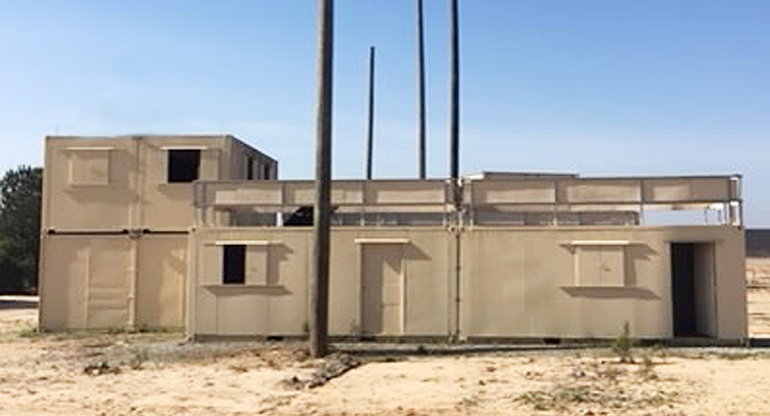 Other modular structures: Shelter Integration Kits
Supporting warfighters on the battlefield, our Shelter Integration Kits can be quickly stood up and reconfigured if needed. The kit transforms into a fully enclosed structure that protects warfighters from the harshest battlefield conditions.
We design these shelters for the U.S. Navy, U.S. Marine Corps, and other government agencies. They've lasted more than 25 years, proving their durability.
They come with full electrical systems that include power filtering, monitoring, and load distribution balancing. We package and deliver each kit based on the customer's usage requirements.
With our QuickRange and Shelter Integration Kits, we provide expertise in the design, integration, and fielding of ready-to-use operational spaces for peacekeeping forces. Modularity and ruggedness give them flexibility and endurance to accommodate a wide variety of missions.