08-06-2019
Behind nearly every customer program we support as a government technology integrator, our procurement team buys the needed labor and materials to build and deliver our products and solutions. This activity is vital to both SAIC and our customers' mission success. In our rapidly changing landscape, procurement complexity is rising exponentially, so continuing acquisition of top procurement talent is a requirement.
Procurement develops and maintains relationships with our suppliers and ensures SAIC receives the best value on goods and services, balancing price, quality, time, and other business factors. In addition to passing that value to our government customers, our procurement professionals manage risk by working with our suppliers on terms, conditions, and compliance with government regulations and purchase agreements.
"We're behind the scenes, but we apply our knowledge and skills to ensure we meet defined deliverables and the needs and objectives of our internal stakeholders and customers," said Dale Whitehead, director of corporate procurement. "To maintain our competitive advantage into the future, it is important to have the SAIC name out in front of young, talented procurement professionals."
Partnership with UT Knoxville
Through proactive recruiting and internships, SAIC's procurement team is integrating new and rising talent. In Oak Ridge, Tennessee, Whitehead and SAIC Chief Procurement Officer Tina Richards are spearheading a relationship with the University of Tennessee, Knoxville's top-ranked supply chain management department.
The collaboration has resulted in a talent pipeline and twice-yearly participation in the university's Supply Chain Forum, where we share our public-sector insights on issues and engage with industry leaders and students. We also have opportunities to contribute to industry research efforts. And, Richards now serves on the university's Global Supply Chain Advisory Board with other leaders in supply chain management and procurement inside and outside of our industry.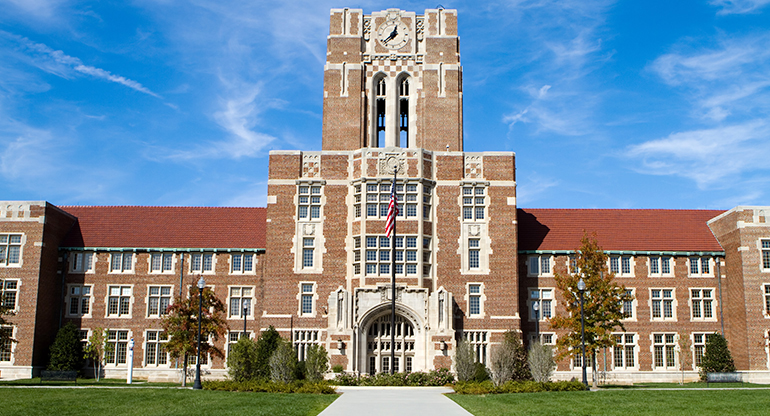 UT Knoxville students come to SAIC and work directly on procurement activities, gaining valuable real-world experience that they can put on their resumes. Because the customer programs SAIC supports range from engineering launch systems for space missions to upgrading military helicopters and their weapon systems to virtually training warfighters and intelligence analysts to modernizing enterprise IT environments, students have a direct impact on the acquisition of everything from sensors to computers and software to cloud computing services.
As they learn that their work contributes meaningfully toward missions of national importance and benefit to citizens, the in-demand students—more than 100 companies on average recruit UT Knoxville's supply chain management graduates annually—will pursue full-time employment at SAIC.
In mid-June, the procurement staff at our Oak Ridge facility hosted UT Knoxville faculty leaders. The meeting, which included presentations on our cybersecurity work and support of the Air Force's Pilot Training Next program, solidified their understanding of SAIC, what we do, and who we serve. The visitors, who are responsible for industry partnerships and student career development, will be better able to match students and graduates with us.
Coming in hot
Interns and new team members are depended upon as collaborators and strategic thinkers. Our procurement team works closely with the program operations and security teams to support our Defense Systems, Civilian Markets, and National Security customer groups as well as with our Solutions and Technology Group to execute on customer programs. Procurement also coordinates with the contracts team on proposal efforts to win new work.
Interns, with support from senior staff members, get to take ownership of projects for development of new procurement capabilities and solutions. This might be researching the capabilities among a set of vendors and determining their implications to our business. It might be supporting advanced analytics with the development of a new algorithm to identify more effectively key issues that affect procurement strategies.
We seek those who have leadership aspirations and are motivated to take action. "In turn, we will offer them a dynamic environment with opportunities to delve into the end-to-end procurement life cycle," Richards said. "They will build rewarding connections with other aspiring procurement professionals and stakeholders to start building the foundation for their early careers."