10-30-2018
Onsite repairs anywhere in the world 
Connectivity is critical to a ship's operation. Network interruptions could have disastrous results. Our Tactical Networks In-Service Engineering Activity (TACNET ISEA) team provides 24/7/365 global support to U.S. Navy ships, submarines and shore-based sites. The team quite literally runs a tight ship.
We have been involved with the TACNET program since 1996. We keep the Navy's networks running smoothly so that they can transmit and receive information, enabling the warfighter to stay focused on their mission: combat readiness.
The TACNET team is composed of program managers, engineers, logistics and support personnel who perform network installations, conduct user training, validate that systems are operational and ready for deployment, as well as provide service desk support via phone and email.
Keep sailors connected
Little more than a decade ago, ships only had a shared satellite connection for 12 hours a day providing limited connectivity. These days high-bandwidth ship connectivity allows sailors to keep in contact with friends and family, access the internet and social media, or even complete a college course.
"We deliver a quality of life to the warfighters," said Kenny Hy, TACNET Program Director. "Previously you couldn't access the internet when the ship was underway. Now one of the main things we provide is internet access so that people can contact their loved ones while they are away for four to six months. Technology and communications are always available and the team uses innovative methods to make sure this happens."
We make house calls
When an issue requires deeper troubleshooting, an SAIC engineer travels to the ship no matter where it is in the world, usually within 24 to 48 hours. Typically, they fly to the nearest Navy base and take either a helicopter, plane, or smaller boat to the ship and work with the Navy team to resolve the matter.
This level of service requires the team to be nimble and ready for anything. They must also prepare for challenging conditions, from encountering extreme temperatures in a shipyard with no air conditioning to seasickness.
Predict and prevent issues
The team is using a more predictive approach so that they can anticipate issues before they happen. When a hard drive is full or a network device is close to its end of life, it sends information shore side so that replacement of the device can occur before it fails. These preventative measures strive to ensure there are no disruptions.
The TACNET team also works to modernize and streamline various systems. These installations update older systems to a more secure platform for command, control, communications, computers and intelligence (C4I). Each Consolidated Afloat Networks and Enterprise Services (CANES) network can support approximately 5,000 Navy, Marine Corps, and air wing users.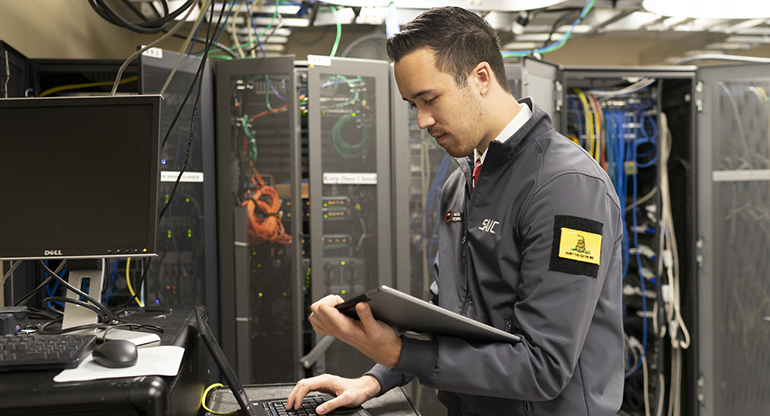 Collaboration makes the team successful
Hy estimates that 50 to 60 percent of the team are Navy and Marine Corps veterans. This background is advantageous when designing systems for the Navy.
Team members are also empowered, taking ownership of customer challenges and helping each other. If one needs assistance, they might get it from another teammate in a completely different part of the world, ensuring they can solve customer issues quickly.
The team is also encouraged to look for ways to improve processes. This atmosphere of continuous improvement helps ensure the Navy is always connected and ready for their mission.