03-18-2021
Methodology combining best practices in training and communications helps organizations tackle stressful situations in these difficult times
Our society is grappling with deep divides that capture headlines, dominate social media, impact our personal relationships, and sometimes spill over into the workplace. Compounding these stressors are grief, health concerns, economic uncertainty, and loneliness resulting from a year of coping with a pandemic.
SAIC developed evocative training to help deal with these issues. "Strong leaders recognize that taking care of their employees' well-being makes their organizations more successful," said Kathy Bold, who has managed many of SAIC's evocative training projects. "They understand that they ignore these issues at their own peril."
What is evocative training?
Evocative training addresses organizations' most serious workforce challenges, including mental and physical well-being; diversity, equity, and inclusion; effective leadership; and sexual harassment and assault prevention and response.
SAIC's evocative training methodology combines best practices from the fields of training and communications to deliver holistic solutions that make the uncomfortable comfortable and strengthen workforce behaviors and skills such as communication, trust, and cohesion. The goal of every evocative training project is lasting culture change.
A hallmark of the process is an intense research phase that helps us develop a deep understanding of the targeted audiences' cultures and attitudes. This helps our team of writers, filmmakers, and curriculum developers craft stories that evoke an emotional response, thus helping to encode training into memory and inspiring participants to action.
"We do more than just analyze data," said Linda Hanus, solution delivery manager for strategic communications and evocative training. "Through focus groups and interviews, we listen to our audiences to understand their unique attributes – what makes them tick. This allows us to develop training that hits the mark."
Evocative training's beginnings
SAIC pioneered evocative training more than 15 years ago to help the U.S. armed forces address emotionally charged topics, including casualty notification and assistance, suicide prevention, and sexual assault prevention and response.
At the time, the wars in Iraq and Afghanistan were taking a toll in terms of casualties, and the services realized they needed to better prepare their officers for the emotional duties of notifying survivors and providing assistance after the death of a service member. SAIC produced powerful, engaging, and evocative videos that helped prepare Army and Marine Corps officers carry out these duties with compassion and empathy.
"They gave us a training manual that was as dry as it could be," Hanus said. "We immediately saw the opportunity to create something special by weaving compelling storytelling into the training." From there, SAIC's team addressed the hidden tolls of war, including an increase in military suicides and destructive behaviors such as sexual assault, domestic violence, and substance abuse and misuse.
Through the years, SAIC and our customers have been recognized with numerous awards, receiving best in show at the National Health Information Awards and awards from the Public Relations Society of America.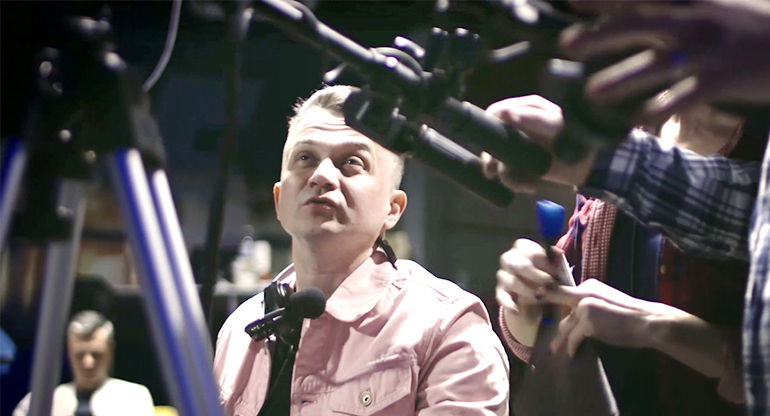 Telling the story
One of the things that makes evocative training effective is the quality of the storytelling. We produce dramas based on input from the target audience — including stressors they experience in their professions — and documentary interviews, which provide first-hand insights that enhance learning.
"We gather real stories about the impact of sexual assault, suicide, and racial and gender discrimination — on individuals, families, teams, and the military services as a whole," said Julie Colan, who has led the development of many evocative training projects for the Navy. "We want to not only tell a story, but also lay the groundwork for enhanced dialogue within a team or unit." Each course includes facilitated discussions on the topic at hand, providing opportunities for team members to develop solutions together and to collectively commit to positive change.
Bringing people together
Events over the past year have presented situations for organizations to support their employees and help them focus on their common purpose — what unites them rather than what divides them.
Evocative training presents opportunities for launching necessary conversations about life experiences and personal truths about inequities, disparities, and discrimination.
"These discussions absolutely are appropriate for the workplace," said Bold, who recently completed a certification in diversity, equity, and inclusion. "Whether you are a warfighter, an engineer, a policy analyst, or a customer service agent, you deserve to feel included, respected, empowered, and connected to a mission. And when you feel all those things, you will perform better and make greater contributions to your organization's success."
In fact, Gartner reports that inclusive teams improve performance by up to 30 percent in high-diversity environments. And a Boston Consulting Group study found that companies with diverse management teams had a 19 percent increase in revenue compared to their less diverse counterparts.
Way forward
Working with SAIC's Big Timber Games, Hanus and Bold are investigating how the integration of augmented, virtual, and extended reality can make evocative training even more powerful. "This is a way to immerse people in situations that will enhance the learning experience," Hanus said. "It also holds promise for bringing the classroom to remote learners."
COVID-19 has had far-reaching impacts on mental health, and Bold said evocative training lends itself to addressing those challenges.
"The impacts of the pandemic on workplace stress are very real, and this goes beyond work-life balance," she said. "Evocative training can help normalize what people are feeling and provide them will coping skills to not just get through this crisis but to thrive."