High Performance Computing
Mastering complexity
OUR APPROACH
Leave no foundational stone unturned in HPC development. Then apply focused exascale power to solve challenges at previously unseen speed.
We collaborate with scientists, technologists, engineers, and decision-makers across the U.S. government, industry, and academia to apply complex science to real-world challenges. We help customers transform ideas from the drawing board into mission success. Our computational scientists offer strategic insights and trusted advice at every stage of the technology life cycle.
Our approach to mission-driven high performance computing delivers tailored solutions that allow our customers to address national priorities. It's why we support 15 of the world's fastest supercomputing environments on behalf of our customers.
SAIC High Performance Computing Brochure >
Click on our blogs and stories below for more high performance computing insights.
HPC Trends for Federal Government report
High performance computing is seeing rapid adoption as a game-changing technology and decision-making aid. This year, SAIC deployed 40 of our HPC professionals to the Supercomputing Conference (SC19), a premier trade event in the HPC industry. Our document provides observations and insights they gained into the latest trends in high performance data analytics, AI/machine learning/deep learning, exascale, quantum computing, HPC in the cloud, and more. Click below for our report.
HPC Trends for Federal Government >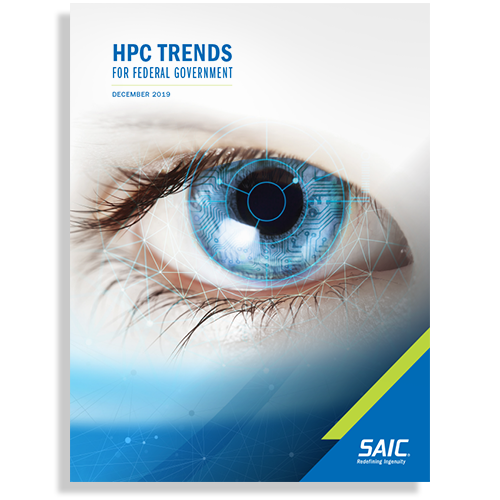 SAIC HPC at Food and Drug Administration
Challenge

The FDA is responsible for protecting and advancing America's public health. It relies heavily on scientific computing. With its science-centric mission, the FDA needs access to people who understand that scientific computing is science enabled by technology—not technology with science added afterward. FDA partnered with SAIC because of our ability to provide computational scientists who understand both scientific and technological domains.

Solution

SAIC enables collaboration among scientists and stakeholders, making results and knowledge transfer available to the scientific community. We select, implement, and support flexible, effective procedures and tools. Our computational scientists deliver solutions in bioinformatics, instrumentation, systems engineering, security, and management--all tailored to meet FDA's unique scientific computing needs.

Benefits/Achievements

SAIC is applying agile methods to reduce development time from multiple years to months. More than delivering simple efficiency, we are helping to achieve scientific breakthroughs by enabling decisions, populating reference publications, and informing drug and device approval. Provenance of the data is crucial; our methods provide a formal and detailed record of who created or changed the data and why, allowing for pedigree recognition.
SAIC HPC at National Oceanic and Atmospheric Administration's Geophysical Fluid Dynamics Laboratory
Challenge

Climate change is a pressing topic of political and policy debate worldwide. To understand and address it, the United Nations commissioned the Intergovernmental Panel on Climate Change (IPCC) to objectively assess studies and research from the scientific community. The IPCC relies on laboratories in multiple countries to comprehend climate change. Predominant among these laboratories is the National Oceanic and Atmospheric Administration's (NOAA) Geophysical Fluid Dynamics Laboratory (GFDL).

Solution

SAIC scientists are enhancing GFDL's complex climate simulation codes and providing deep computational insights to better model extremely complicated atmospheric interactions. SAIC performs myriad tasks, including developing climate models, executing simulation experiments, visualizing simulation results, and delivering very high-volume simulation data. SAIC develops and enhances the core modeling framework that lets research scientists integrate GFDL's atmospheric and oceanographic models.

Benefits/Achievements

SAIC scientists are creating innovative techniques to tackle some of climate modeling's most difficult challenges. Our efforts provide better models, scientific analysis, and predictions that can reach policymakers more quickly and allow them to make informed decisions on the future of our planet.