ENGINEERING AND INTEGRATION
Integrated model-based approach for rapid and robust innovation
Bring bright minds together, and give them the tools to succeed.
Through our robust systems engineering ecosystem, we integrate multiple disciplines to provide our customers with resilient solutions that accommodate rapid improvements in technology. Collaborating with a common set of digital models and authoritative data improves decision-making, design, development, delivery, and sustainment of complex systems.
Our systems engineering and integration (SE&I) services encompass a system's life cycle from concept development through deployment, operations and system retirement. Many of our engineers also have a systems engineering professional certification from the International Council on Systems Engineering (INCOSE).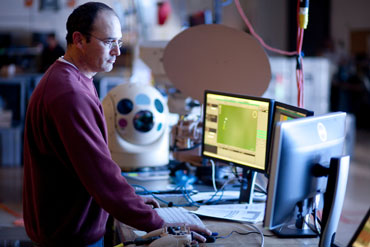 We apply consistent processes and tools across engineering disciplines that yield innovation in areas such as:
Space Systems Engineering and Integration

Our teams merge mission and engineering expertise to design, develop, launch, and operate space systems that further our national security and space exploration objectives.

Weather and Climate Change Modeling

Atmospheric, hydrospheric, and biospheric research enhances geospatial and geographic information system technologies to further our understanding of our planet's health.

Foreign Materials Exploitation

Performing testing, technical analysis, and characterization of weapons systems has intelligence and operational implications.

Space Control and Space Situational Awareness

Offensive and defensive space strategies rely on mission expertise, system resilience, and the ability to detect and characterize space threats in real time.

Safety Engineering

Multimedia sampling and hazards analysis address potential system safety issues, helping to mitigate catastrophic failures in the aviation, space, weapons, and explosive ordnance domains.

Weapons Modernization

Our internationally recognized expertise in the manufacturing of steel bomb casings, ammunition, gun systems, and next-generation delivery vehicles improves readiness.