5G Mobile Broadband Will Benefit Defense at the Tactical Edge
Command-and-control and situational awareness applications are prime candidates for leaps in data bandwidth and speed

05-11-2021

Edward Jennings

IT MODERNIZATION
As 5G succeeds 4G as the standard for mobile broadband telecommunications, we will see the promise of ultra-high-bandwidth and ultra-high-speed data being realized. 5G will give rise to new conveniences and amazing applications not only in our consumer lives but also in areas such as medical, military and defense, and emergency response.
While the benefits to consumers are obvious, 5G is enabling surgeons to operate on patients remotely using robots and video via cellular networks. Telerobotic surgeries have already been performed, repairing spinal disorders and stimulating the brain of someone suffering from Parkinson's disease, for instance. As bandwidth dramatically rises and latency becomes imperceptibly low — several milliseconds — we are witnessing incredible feats. Imagine the future where we can overcome geographical shortages of doctors as well as pandemics that keep us apart to provide lifesaving efforts from a distance.
5G will radically change defense operations
At SAIC, we are working on the next generation of mobile services and capabilities for our nation's warfighters who risk their lives and must maintain formation every day at the tactical edge. 5G is a data transport option for our Edge Services package of hardware, software, and apps for mobile, cloud-driven networking, compute, and storage on the frontlines.
In a localized area, or cell, 5G allows for high-speed data from the cloud and between edge devices. When our nation's troops are engaged in conflict, fractions of seconds matter for getting information to their tablets and phones. 5G will keep warfighting units aware of each other's battlespace conditions and activities almost instantaneously.
Command-and-control (C2) and situational awareness (SA) applications feeding the common operating picture are primed for 5G. Crystal-clear streaming video requires an enormous amount of transmission bandwidth and extremely low latency. We will see peer-to-peer transfers of large data files in seconds.
5G is essentially the glue that joins together the tactical cloudlet. A 5G microcell can serve all the individuals within it and even aggregate the capabilities of each mobile device into a large computing platform. Other uses of technology we haven't even thought about today will become ubiquitous in the 5G realm.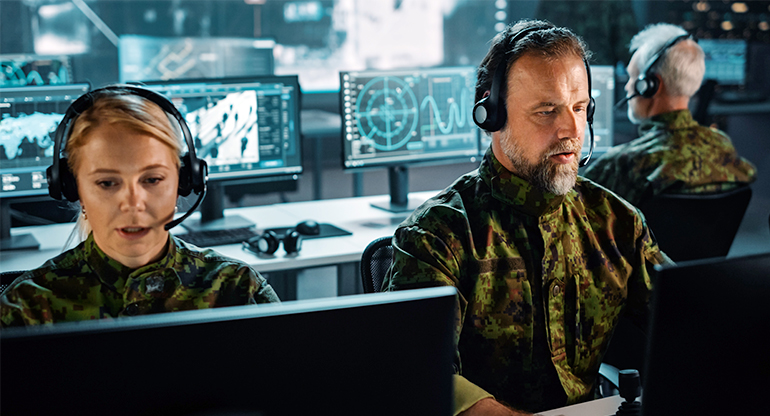 Making waves
We shouldn't expect 5G to be a miracle but rather should look at it as a step forward. 5G is segmented among low-band, mid-band, and high-band in the radio spectrum, and while we will see mainly mid-band 5G (which operates at sub-6 GHz frequencies) being deployed across the U.S. cellular infrastructure, warfighter uses require high-band 5G. This level of 5G uses millimeter-length radio waves in the 24-100 GHz frequency range.
Millimeter wave signals have limited range, so they would require many small, spread-out cells should transport over distances beyond a local area be needed. And, their limited penetration power means they can be stopped by physical obstructions. So, we will need to educate customers on 5G's challenges at microwave frequencies.
Yet, the cool thing with high-band 5G for our defense customers is that the limited range might actually be what they need. Tactical edge operators want cell signals to reach only them and not their adversaries. Plus, we could see microcell-creating equipment (e.g., antennas and transmitters/receivers) outfitted on tactical vehicles and on unmanned aerial vehicles to provide roaming coverage between cell bubbles over long distances.
Other 5G applications
SAIC is also looking to partner with the Department of Defense as it eyes 5G to build military smart bases and smart piers. These 5G-based installations will turn the DOD's complex networks of sensors, wearables, and internet of things devices into connected ones capable of handling massive amounts of data in surveillance, perimeter security, and analytics activities.
Non-military emergency response operations could also benefit enormously from 5G-powered C2/SA capabilities. Firefighting applications could come from 5G's ability to support directional signals. Rather than carpeting an area, the antennas on portable 5G base stations can direct radio signals to users and devices, which would give firefighting command centers an incredible situational awareness picture of who is going where and who is in what room inside a building that's filled with thick smoke.
It will take several more years for 5G technology and infrastructure to reach maturity. While what we're doing at SAIC with 5G will be just a very small fraction of all uses that will be dreamed up, it will nonetheless entice government customers to the possibilities. As SAIC is a technology integrator, we will have lots of freedom to explore, work with, and integrate the best 5G gear that will emerge in years to come for our customers.