11-16-2022
SAIC provides commercial-quality technology support and services to 60,000 Air Force and Space Force warfighters as a prime industry partner
The Air Force and Space Force are implementing an enterprise IT as a service (EITaaS) strategy to acquire standardized, consumer-style IT services from commercial partners. The EITaaS initiative began in 2019 with a risk-reduction effort across nine Air Force and Space Force installations to determine the technical, operational, security and organizational requirements for a managed services model to deliver modern computing, networking and telecommunications capabilities to airmen and guardians. SAIC is the prime partner for the end-user services line of effort within this EITaaS framework, managing the day-to-day IT support and services for the two military branches. 
The Air Force and Space Force dealt with fractured IT services, processes and systems among each installation. In addition to high costs, operational inefficiencies and staffing challenges, the IT services didn't adequately meet end-user needs. The branches wanted to modernize their IT infrastructure, services and support so that airmen and guardians faced fewer technology distractions and would be able to focus on their missions of defending and protecting the nation. 
EITaaS enables them to shift the work of managing IT systems and support to industry partners, who can introduce game-changing innovations and agility. In end-user services, SAIC is:
Leveraging artificial intelligence, by integrating chatbots that:

Interact with customers and support their requests
Identify solutions that are accessible from a service center portal, which is a self-service tool with:

An automated service catalog and software center
A robust knowledge article library
Real-time ticket management capabilities 
Live-agent chat.
Airmen and guardians can easily navigate the user-friendly portal for 24/7/365 self-service — or Tier 0 support — a capability that's new to the Department of Defense landscape.  
In addition, SAIC provides an enterprise-wide 24/7 service desk and local support at the installations with a field services team to provide computer repairs and other services. At each base, field services teams also staff Tech Cafes and Cyber Hangars, modeled after Apple's Genius Bars, for face-to-face tech support, where these team members have a 98% customer satisfaction rating.
Better user experiences mean better mission readiness
It is important that when airmen and guardians show up at their battle stations, their computers and phones, applications, networks and other systems work smoothly, and that end-user services teams can quickly remedy any IT problem they encounter. By improving end-user service quality, they spend less time fixing IT issues and more time on their missions. 
More than 60,000 airmen and guardians are now benefiting from round-the-clock access to modernized tech support. SAIC's end-user services support outperforms the industry average for customer satisfaction with an overall measurement of 91.5% across the nine installations.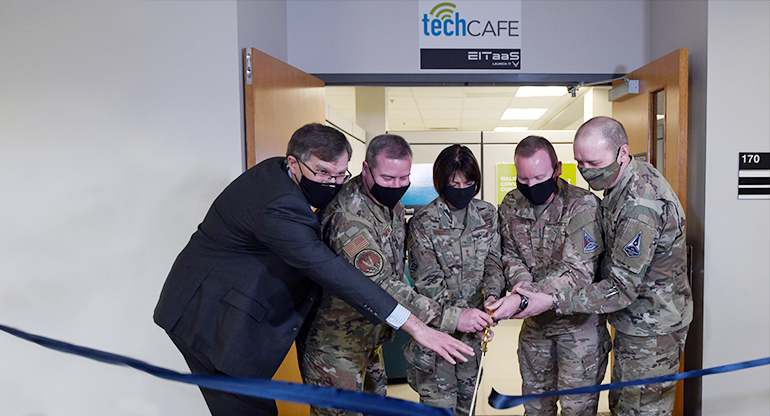 Our team leverages SAIC's enterprise IT service management framework that is focused on user-centricity. Everything we do to modernize and raise experiences, convenience and efficiency for airmen and guardians has the goal of enhancing their productivity and mission effectiveness. We use a standardized approach across the nine installations that leverages the latest industry-best practices for IT service and asset management.
We also leverage customer experience-related key performance indicators, digital experience monitoring and service-level performance data. We provide a centralized platform where Air Force and Space Force leaders have access to dashboards that track and monitor IT performance at each base to inform them on support needs, funding requirements and ways to continuously improve and innovate customer experiences. With better visibility and metrics, our customers can reduce their IT capital expenditures while raising service outcomes and user-experience quality. 
SAIC is managing end-user services, leveraging our enterprise service management framework, at: 
Spangdahlem Air Base, Germany
Joint Base Elmendorf-Richardson, Alaska
Buckley Space Force Base, Colo.
Offutt Air Force Base, Neb. 
Cannon Air Force Base, N.M.
Hurlburt Field, Fla. 
Maxwell Air Force Base, Ala. 
Gunter Annex, Ala. 
Pope Field, N.C. 
 We deliver a secure enterprise solution where: 
100% of customers have adopted our end-user service deliverables 
66% of customers consistently seek self-service support, versus the industry-standard 17% 
44% of customers at the service center portal submit automated tickets for their IT needs, versus calling the service desk, reducing call burden time and IT costs
67% of potential service requests are deflected away from the support team by AI chatbots, versus the 9% industry standard 
96% of calls to the service desk are answered in less than 60 seconds, with an abandonment rate of under 1%
66% reduction in return-to-service time has occurred, as we have an average ticket lifecycle of five days versus the pre-SAIC 14.7-day average
41% reduction in IT staffing requirements has occurred.
In addition, our assured compliance assessment solution vulnerability scanning has identified 24% more endpoint devices on Air Force and Space Force networks, improving reliability and security by remediating vulnerabilities before they can be exploited.  
EITaaS, managed services continue the commercial shift 
Our managed services have resulted in the re-missioning of an estimated 86 mission defense team airmen and guardians, whose mission is to detect, protect and respond to cyber threats. We are strategically positioned at key installations to support the largest clusters of mission defense teams, which protect Air Force and Space Force missions and installations such as critical infrastructure and computers associated with aircraft and remotely piloted systems.  
Our team is one of many SAIC customer teams that are transforming enterprise IT for defense and civilian government organizations with our commercial-quality managed services. SAIC delivers EITaaS solutions across all service towers: digital workplace, messaging and collaboration, applications, network services, platforms and cloud and cyber.
By shifting to a managed services framework, our customers can stop worrying about their IT and concentrate on their mission tasks. They also benefit from the expertise of SAIC's IT professionals, who are trained and knowledgeable in the latest commercial innovations and continuously improve service quality for them.  
Learn more about how we enable customers to focus on their missions with user experience-focused and optimized IT services at SAIC's Enterprise IT page.