03-30-2023
Key Takeaways:
---
Department of Defense services and agencies are adopting digital engineering to execute on the different stages of the solution development and management lifecycle.
At the implementation phase of the lifecycle is where SAIC's customers can shrink lead times by 70-80% as a result of moving from traditional manufacturing execution to model-based definition and generative design.
These capabilities are conducted via commercially available software packages and can be integrated into digital engineering and product lifecycle management systems and practices.
---
LISTEN TO THIS BLOG:
The engineering "V" is a process template used across sectors and industries to guide the engineering of products that are all around us. Engineering teams use the V-model to map and plan out their steps and activities to develop and deploy solutions. More and more, SAIC's customers, especially those in the Department of Defense (DOD), are using digital engineering (DE) for a 3D model-driven, data-centric and computer-controlled approach to engineering V and solution lifecycle management.
As our customers are engineering and fielding complex solutions faster to answer quickly evolving mission demands, SAIC is supporting their efforts by deploying capabilities from our DE ecosystem. The capabilities allow them to model, visualize, analyze and simulate solutions as well as collaborate and iterate digitally, helping them to move more effectively through feasibility studies, establishment of operational concepts and requirements and initial design. Across this definition side or "front end" of the engineering V, we are integrating DE software and tools from commercial vendor partners into the digital infrastructures and workflows of our customers, and they are benefiting from integrated digital threads that tie together all their project artifacts and data into one authoritative source of truth.
Following down the left side of the engineering V to the implementation phase is where the design of a solution, which might be a physical part, comes to life. Many of our customers tap us to perform managed DE execution services for them, and they expect us to come up with innovations that continue to shrink their lead times to outcomes.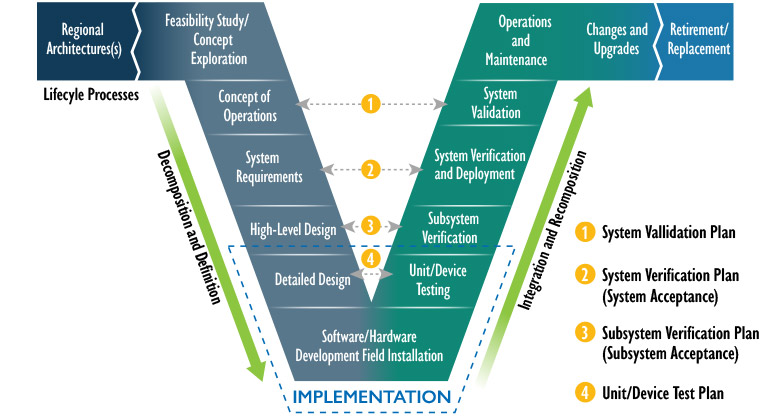 Model-based definition drives integrated manufacturing and inspection
We regularly support our defense vehicle customers as a lead systems integrator by delivering validated and high-performance parts, such as antenna brackets, in days instead of weeks as a result of several innovative capabilities that we have added to our DE ecosystem for the bottom of the engineering V. Model-based definition, or MBD, is particularly the driver of time, labor and cost savings. Adoption of MBD is growing across industries because it can significantly improve efficiency — by potentially up to 70-80% — compared with traditional computer-aided design and manufacturing documentation processes. 
Model-based definition is the process of annotating the 3D design model of a part with manufacturing information, including material type, part dimensions and tolerances and inspection requirements. By enabling engineers to document the complete definition of a part in the 3D model, with all the geometry, design and process data that is needed to execute on the solution, MBD replaces the huge chunk of work in preparing additional and often 2D manufacturing drawings and inspection documentation. 
Not only does model-based definition, done via commercially available software, bypass drawing and documentation workflows, it also keeps downstream manufacturing and inspection processes seamlessly based on the 3D model. This maintains the critical authoritative source of truth in the integrated digital thread for customers and us. The 3D file preempts other data sources from being created, which otherwise could cause stakeholder confusion when model and engineering-drawing information do not match. Our customers can also move ahead more efficiently with the part by looking at it as a 3D solid object and not having to interpret complex 2D drawings, which reduces the chance for errors.
Generative design's built-in simulation and analysis get parts into best shapes  
Generative design synchronizes 3D model-based detailed design, simulation and analysis of the part into an integrated process to reach an optimized and manufacturing-ready solution. Using commercially available software, SAIC's digital engineers follow the mission requirements and design parameters defined upstream in the engineering V as they model the part, conduct what-if studies, and iterate it based on criteria like size, weight, shape and strength. The big advantage for our customers is that this produces variations of the solution rapidly, with each one optimized to address specific design constraints and manufacturability aspects, so they can make informed decisions.
Generative design is a much more efficient process than traditional design and analysis methods and allows SAIC to be agile to changes in mission requirements.
"Let's say the location for an antenna bracket on a vehicle platform moves and its mounting points change, or maybe now it has three mounting holes instead of four," said Steve Hollingsworth, a company DE director. "We can reiterate based on the updated design parameters and optimize the bracket's geometry again very quickly." 
Additive manufacturing offers complexity-busting execution
This optimization to make parts lighter, stronger or more durable by strategically locating material and minimizing waste is resulting in designs with complex internal and external shapes. The quest for structurally efficient parts suits additive manufacturing, known commonly as 3D printing, as the means to produce them.
Additive manufacturing, or AM, solves complicated geometries by depositing material layer by layer along cross-sectional contours as it builds the part up, in contrast with conventional methods of shaping a block of material through machining, drilling and surfacing removal operations. AM also works seamlessly with 3D scanning processes for performing dimensional inspection of produced parts immediately against their reference models for accuracy and quality control — done again in commercially available software.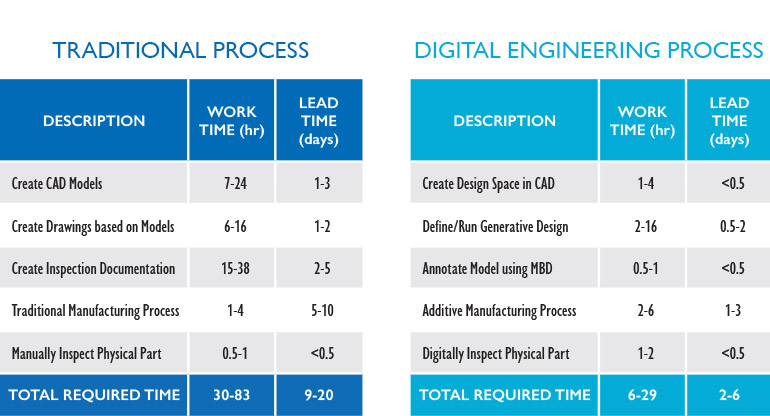 The DOD is increasingly harnessing additive manufacturing for everything from parts for vehicles, aircraft and weapon systems to medical supplies and to do experimentation and prototyping for tomorrow's solutions. It has published policy and guidance for the military services and defense agencies on use of the technology. Numerous DOD customers are leveraging our in-house additive manufacturing lab, which we established in 2016, to investigate new designs or field live solutions.
While generative design and additive manufacturing won't replace well-established solutions or high-volume production at this time, having the capabilities internally gives interested SAIC customers ready access to investigate the art of the possible.
"This isn't by any means the only way, as we'll still make things conventionally. If you've been tasked to use additive manufacturing for your solutions, we're mature at it and already applying it to programs," said Rodger Willis, a senior principal digital engineer. "We're able to help our customers get more lean and mean on performance versus something that does the job but might not be the most efficient."
Customers benefit from an expanded digital engineering ecosystem
The DOD has made digital engineering, tying in technologies like additive manufacturing, a crucial part of its strategy to modernize practices and maintain advantage for the nation's defenders. Bringing detailed design, engineering, manufacturing and inspection into the integrated digital thread speeds production, reduces opportunities to introduce ambiguity and errors, and aids communication and collaboration. Our customers are thus able to cut down on time, labor and cost in supplying the front lines with critical equipment.
As SAIC offers direct support to these initiatives with our connected set of generative design, model-based definition, additive manufacturing and 3D inspection capabilities, we are making DE at the bottom of the engineering V as easy as possible to integrate into customers' engineering systems, software and practices. No matter how infrastructures and workflows are set up, we work with customers to connect this part of our ecosystem to their environments through containers in the cloud.
"Our customers can keep using their engineering and product lifecycle management applications, while we work to integrate their models and data into our toolsets," said Willis. "And, we're growing the number of commercial software tools that are able to integrate with us." 
"We have developed DE innovations at the front end of the V, and now we are rolling out DE and the integrated digital thread for the bottom of the engineering V," said Hollingsworth. "It's going to make us more efficient and effective in executing for our customers and ultimately our warfighters."
Learn more about SAIC's digital engineering solutions at our Digital Engineering page.