08-19-2021
For space, mission success will come from building a digital force to keep up with, even outpace, challenges
Space missions carry arguably the heaviest burden and complexity out of all government endeavors, whether the objective is elevating our knowledge of the heavens or preserving national security. When NASA, DOD, and the intelligence community send something into orbit or beyond, they need to be sure it works and doesn't interfere with what's working out there. You get one shot at the best solution when you put things in space.
Arriving at that solution traditionally takes a long time and requires numerous, diverse teams to work together. It's why the U.S. Space Force has devised a formal plan, with General John "Jay" Raymond's vision and leadership, to become the first digital military service. Now a peer domain, space in the 21st century is a race requiring innovation at speed. One of the best ways to counter ever-faster mission needs with solutions of the highest confidence is becoming an organization leveraging the digital thread.
What does a fully digital organization look like? Missions between a civilian space agency and a defense body may differ, but interconnected digital tools and communications are at the core of success, as space solution development time is significantly compressed and innovations are surfaced easily and regularly. No longer can space organizations afford to rely on physical development of solutions, enduring numerous build-and-react iterations from prototype to finished product — or even wait for training until after it rolls off the production line.
Digital thread turns into tapestry
The digital thread integrates all the applications, tools, and communications development teams use to actualize their solution. It is where data is digitally linked across tools, disciplines, and domains, as sets of parametric models that maintain cohesion. The digital organization designs, analyzes, acquires, builds, tests, trains for, and even operates solutions in the computerized, virtual, online realm.
This thread weaves together not only what's inside the organization, connecting internal designers, engineers, business leaders, and scientists, but also external partners and stakeholders in the broader space ecosystem. That's because space solutions are complex systems of systems almost all the time and success depends on universal collaboration.
Linked by the digital thread, partners inside and outside ingest, absorb, act on, share, and refresh project data and information efficiently. An update to any part of a complex system is distributed to all parties near-instantaneously. With the digital thread ensuring traceability and consistency with a master, reference model of the system in work, there is less chance of errors and mishaps, as teams always work according to one authoritative source of truth.
SAIC's role in the digital tomorrow
SAIC is at the forefront of this imminent digital future, advising, equipping, and supporting organizations of all varieties and sizes that hold digital thread aspirations. The digital tools and platforms we integrate into connected chains for our customers and their partners can be theirs, ours, and commercially available packages. Digital engineering, whose foundation is model-based systems engineering; quick-response modeling; and immersive technologies represent three pillars of SAIC's digital thread for tackling the complexities of space systems.
Making up SAIC's digital engineering suite are modeling, simulation, analytics, visualization, and collaboration tools. Teams digitally generate, curate, and share computable data, and can visualize and test billions of scenarios to get the operational truths needed for success. They can prosecute more mission parameters, evaluate corner cases, see potential trouble spots via vulnerability assessment, and anticipate mission effectiveness.
Immersive technologies compel higher levels of performance, comprised of augmented, virtual, and mixed realities; serious gaming; and human-in-the-loop live and virtual simulations and delivering hyper-realistic environments that present real-world scenarios for mission stakeholders to interact with. They provide analytics, including biometrics, to inform critical design decisions.
Flipping the script
The digital thread will rewrite workflows and cadences. As data propagates across the ecosystem in near real-time, and with ubiquitous, on-demand availability of information, it can mean an independent verification and validation team can go in and test the solution while the development team is still working on it. Future operators of a command center that's under construction can practice telemetries and scenarios in an immersive virtual build-out; walk around within it; touch the screens, controls, and instrumentation; and be "day 1" ready. Identified improvements can be flowed back into the design, and teams are made aware.
Digital twins — virtual clones of physical objects, such as the command center — provide visual representation in support of the whole gamut of solution life-cycle functions. With AI and machine learning, digital twins can even fast forward to help predict performance and the solution's end of life.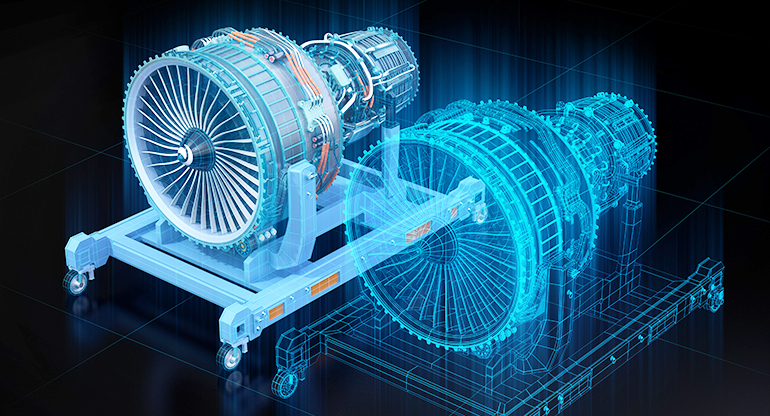 Digital twins can ease communications between disciplines or domains. If there's an issue with a space asset, describing it over the phone to someone with a different subject lingo is nearly impossible. Wouldn't it be easier to don VR headsets and talk through the issue while looking at the digital twin and arrive at a mitigation action?
Quick-response modeling, meanwhile, is SAIC's scenario-analysis service for high-level decision-makers. A quick-response modeling task may be an hour-long exploration into single-mission performance or a full parametric evaluation of a variety of mission scenarios taking several hours. The "what-if" analyses can cover a range of costs, time, and resources depending on problem complexity but in the end inform complex engineering issues, trade-offs, and solutions.
Our multidisciplinary team of engineers, mathematicians, scientists, and analysts determines driving factors behind mission performance. If a particular scenario results in 80% mission effectiveness due to factors X, Y, and Z, then we can recommend mitigating them through system or architectural changes to raise it to 95%.
Winning the game
The digital thread is shaping up to be the backbone for joint development, engineering, and operations for generations to come. It is the agile capability that will enable organizations to adapt in days rather than months and know they've produced the right widget for the job. By weaving the digital thread across the solution life cycle, from problem definition and concept analysis to operations and sustainment, all mission aspects will be connected — and in ways we haven't thought of yet.
SAIC is not the only player in digital engineering and immersive technologies, but among our customers, there is already uptake of our award-winning tools and thought leadership — notably in ontology development, so that teams of diverse disciplines can communicate via a "common language" in the digital ecosystem. The methods we employ are repeatable and replicable, and we are helping customers become digital organizations of the future.
See more about the digital thread in our videos below.