05-04-2021
SAIC helps technical professionals become leaders in their communities of practice
Thought leaders don't sit in ivory towers. They are active in their communities of practice, honing the art of their disciplines, discovering new uses for technology, and sharing knowledge. Seeking diversity of thought enhances the wisdom that already exists and results in thought leaders, not thought theorists.
SAIC is committed to nurturing thought leaders who drive new capabilities and mission outcomes for the U.S. government and the commercial sector. By investing in our people and their participation in industry groups such as IEEE and INCOSE, SAIC is among practitioners who are defining the future of engineering.
Investing in people
As a premier Fortune 500 technology integrator solving our nation's most complex modernization and readiness challenges across the defense, space, civilian, and intelligence markets, SAIC's experts work across the U.S. government.
SAIC's capabilities are not limited to applied expertise. We are engaged in research and development of new ideas, technologies, and approaches. Our people are the brightest minds in industry, spanning all career stages and diverse backgrounds and working with our customers on developing novel and innovative solutions to the nation's hardest problems.
We recognize that industry-leading expertise is an outcome of professional and leadership development and that a career arc has many stages. Our attention to early-career talent helps grow future technical leaders, while our successful retention of later-career subject matter experts helps sustain a company-wide environment and culture of innovation and excellence.
SAIC Fellows
The SAIC Fellows program represents our most senior thought leaders. For every 1,000 employees in the company, one SAIC Fellow is selected for the ability to take exploratory ideas and work on them in company-funded projects that will have the greatest industry impacts. SAIC Fellows have a direct influence on how SAIC applies technology to answer our nation's calls to action.
The SAIC Fellows program helps us retain top thought leaders. Many SAIC Fellows mentor our early-career employees to become next-generation innovators, and they are part-time adjunct professors at universities across the U.S., serving as our strong connective tissue with academia, where new research is being conducted and where new professionals are emerging.
SAIC works closely with universities to create internship opportunities that provide exposure for students and emerging professionals to real-world context and guide them into careers. We create opportunities within SAIC, such as communities of practice, for new talent to collaborate and learn from existing leaders. When our employees are ready to explore their own research, our Research Fellows program puts them under the wings of SAIC Fellows mentorship.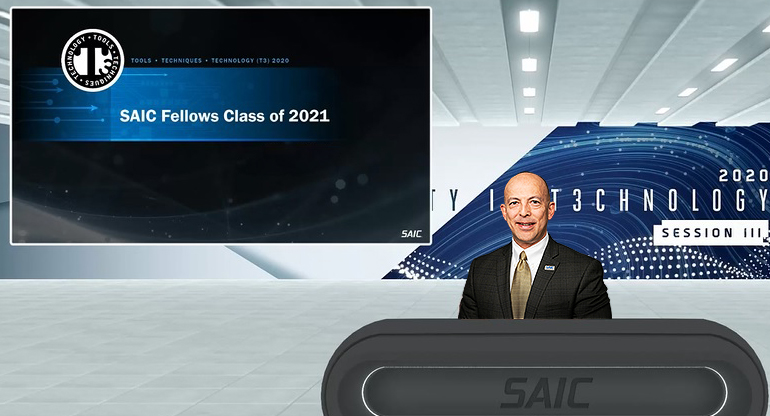 Pollinators
SAIC Fellows and employees alike are highly engaged and committed to their careers and professions. They demonstrate this through participation and leadership in professional societies that define and govern the standards for both technology and industry. For instance, we have employees who serve on standards committees for NIST as well as ISO. They serve as the conduits ensuring that SAIC contributes to the national and international frameworks for best practices and that the best lessons learned in industry are brought back into our company.
SAIC is helping lead engineers and computing professionals throughout the nation so that the U.S. government has a deeper national talent pool. For example, our SAIC Fellows hold national and international leadership and officer positions in INCOSE and IEEE, the respective systems engineering and electronic/electrical engineering societies, which are two of the most recognized groups in the world. Our SAIC Fellows also teach all levels of engineering curriculums at universities such as the University of Alabama in Huntsville, George Mason University, and the University of Maryland Global Campus.
To many companies, the idea of industry leadership means hiring the right experts and deploying them to solve customer problems. At SAIC, our engagement of and the investments we make in our technical experts at all stages of their careers, plus their active involvement in leading professional societies and universities, set us apart in true industry leadership.