02-26-2019
San Diego State University recognizes company's longtime support
SAIC was recognized by San Diego State University at its annual "Evening Celebrating Philanthropy" on Feb. 13. The gala honored benefactors whose lifetime commitments have exceeded $1 million in funding for student scholarships, research, and student and faculty projects at SDSU.
SAIC has been a long-standing supporter of various programs at SDSU, including Mathematics, Engineering, Science Achievement; the Lavin Entrepreneurship Center; engineering student projects; and a multitude of faculty research projects. During the event, held at the on-campus Tula Community Center, SDSU President Adela de la Torre presented the Presidential Medallion to SAIC, with David Armstrong, vice president of operations for defense systems, accepting the award for the company.
"This is a humbling moment for me and SAIC, and I could not be prouder of how we've supported SDSU," Armstrong said. "We are deeply honored by receiving the Presidential Medallion. As a science and technology company, we know how important it is to our national security to support STEM education and initiatives."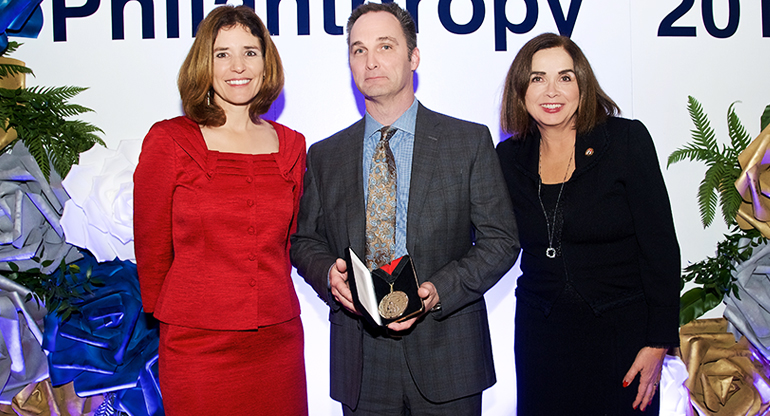 SAIC's work in San Diego and southern California includes some of the most sophisticated engineering and integration endeavors in the world, supporting the U.S. Navy's Space and Naval Warfare Systems Command and the U.S. Air Force Space Command's Space and Missile Systems Center.
SDSU's College of Engineering has seven programs accredited through the Accreditation Board for Engineering and Technology, including aerospace, electrical and computer, and mechanical engineering.
"SDSU's world-class programs have benefited America, and we look forward to many more years of positive partnership," Armstrong said.