Military Intelligence Requires Solutions for Multidomain Operations
This specialized field in the armed services is always seeking greater efficiencies and effectiveness in defense information operations

03-14-2023

Shawn Seffernick

DEFENSE
Key Takeaways:
---
Military intelligence involves the production of information by the armed services that identifies and helps mitigate threats to the nation.
The mission needs of the military intelligence community include analyst training, safeguarding sensitive information, and accelerating solutions development.
Collaboration and customer-centric efforts are important to develop solutions and capabilities that lead to better mission outcomes for military intelligence analysts.
---
LISTEN TO THIS BLOG:
What is military intelligence? An introduction
Military intelligence is a field among the U.S. armed services that includes gathering, analyzing, processing and disseminating information to identify adversarial threats, provide situational awareness for defense planners, and target and mitigate those threats in military operations. There are many moving parts in this critical and complex area of work, ranging from human specialists who research, analyze and convert collected information into intelligence products to machines and technologies that assist in gathering and filtering information along with automating tasks and processes.
The military intelligence (MI) field is also a military occupational specialty, and whether MI is conducted by intelligence specialists in the Army, Marine Corps, Navy, Air Force, Space Force or Coast Guard, getting accurate information to the right people at the right time is critical to the mission of ensuring our nation's safety. Our warfighters on the front lines rely on intelligence to do their jobs and remain out of harm's way, and our defense leaders use MI products to learn about enemy forces and their capabilities while strategizing and planning operations to minimize risks.
As a technology integrator with defense mission expertise, SAIC understands the importance of military intelligence, and we are proud to support our customers and warfighters with MI solutions and capabilities that translate to battlefield advantages. As the program manager for an SAIC task order that is at the forefront of global MI-related projects, I'm thrilled to play a part in the work that we do to help Department of Defense (DOD) customers design, build and operationalize those solutions. My goal here is to raise awareness of the role SAIC plays in the MI mission, whether you are new to this field or an established expert.
SAIC's number-one priority is customer mission success. Regular customer engagements and reporting, as well as open lines of communication with our customers, enable us to obtain feedback on our performance and inform everything we do. We know that we are expected to make technical improvements to solutions, implement cost-saving mechanisms, improve time and resource efficiencies, and introduce process improvements, as a close partner. The road to success in military intelligence is paved by a laser focus on customer-centric efforts that lessen contractual workloads and initiate work quickly, which is critical when the safety of service members is at stake.
Broadening the reach of military intelligence training
Adversaries are constantly adapting and changing their patterns, habits and communication tactics against our ability to gather information. Military intelligence can be gathered anywhere and everywhere, and since active and reserve MI analysts are spread out across the globe and adversaries are engaging in unpredictable ways, it is essential that they undergo ongoing training. MI specialists typically gain skills and knowledge in the classroom, and training in the field isn't always easy to come by, especially for Army National Guard and Army Reserve members, who don't train as frequently or with the same training systems that their active counterparts have on hand.
Meeting our customers where they are, SAIC has made significant strides toward solutions that enable anytime, anywhere training from any Internet-connected device. We are working with them to integrate a cloud-based virtual training environment into their training networks, which will help MI analysts keep sharp with their information analysis and delivery of clear and actionable intelligence products. The virtual environment ensures that our customers' end users receive training in an effective and timely manner and addresses the challenge of providing widespread access to training — whether in the classroom or in the field.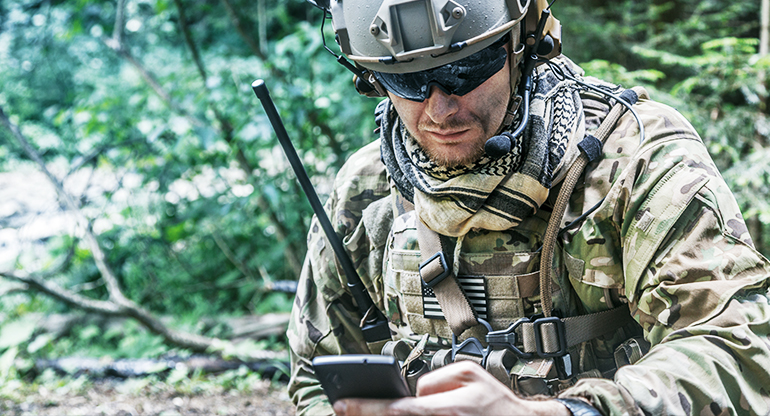 From fortifying facilities to producing virtual prototypes
We are cognizant of the wide range of mission needs to which the military intelligence community requires solutions and capabilities. Military intelligence work involves handling and protecting sensitive and classified information. Our customers require mission experts who understand the nuances of safeguarding the facilities that store and manage this information and solutions that prevent espionage, sabotage, terrorism and criminal activity. This includes not only protecting physical structures but also ensuring that hardware and software systems are fortified against cyber threats.
Maintaining physical security programs involves complex and multifaceted processes, of which SAIC possesses knowledge and expertise from customer engagements. In addition to supporting customers with project oversight, our teams enforce security compliance within secure facilities while continuously monitoring them for vulnerabilities and integrating solutions and mitigation plans that comply with applicable laws and policies.
Another area of need is lead time reduction to outcomes in solutions development. To facilitate and accelerate the research, design and decision-making process for customers, virtual reality-based prototyping allows testing and evaluation of variable designs before anything is made. This cuts down on costly redevelopment work if errors are found during the build stage.
To meet the technological innovation part of our customers' digital transformations for mission success, we have invested in VR as well as augmented- and mixed-reality tooling to create virtual prototyping environments. SAIC engineers developed and delivered a VR-based design of an expeditionary vehicle capable of supporting MI processing, exploitation and dissemination missions. The customer was able to review the vehicle design in an interactive and immersive experience, which resulted in clear and tangible guidance before metal was bent. The ultimate objective is for MI professionals to have a vehicle that meets all mission parameters quickly while minimizing cost.
Military intelligence requires synergy and teamwork
In military intelligence, the stakes are high. SAIC's MI team and I have built up the mantra of collaboration after years of experience: the more we learn from each other, the better we can serve with solutions and capabilities for those whose lives depend upon them. Together we can learn and enable ways for MI professionals to be their best and achieve their missions. If you have a program or team that supports military intelligence, let's talk and let's collaborate. Reach me via email.